From the pages of
The Sublette County Journal
Volume 4, Number 47 - 7/20/00
brought to you online by Pinedale Online
---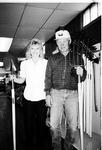 Bill and Wanda Murdock have opened a new hardware store in Big Piney

New Hardware Store Opens in Big Piney

by Bobbi Wade

Last Friday saw the grand opening of a new business enterprise in Big Piney, the New Frontier Hotel & Store in the remodeled former location of Fred & Jean's Market at 146 Budd Avenue.

The new store is a general hardware store with the usual hardware, tools and lawn and garden supplies, in addition to fine wedding gift items, crystal, baby gifts, jewelry and other merchandise. Also in the inventory are Wrangler and Carhartt jeans and work wear, and a full line of Martin-Senour Paints.

Owners Bill and Wanda Murdock purchased the entire Frontier Hotel building and are continuing to operate the hotel as well as the new store. There are ten rooms available to rent nightly, weekly or monthly and one apartment as well. Future plans are to remodel the hotel rooms to a "Victorian Western" theme and to continue with a revamping of the rest of the building.

When asked how she decided on a hardware store, Wanda indicated that she has wanted to own and operate her own hardware business for as long as she can remember, and is very positive about the outlook for their company in Big Piney. She gives much of the credit for getting the store up and running to her daughter, Cheri Hopkins, who will be working full-time alongside her mother in the store. Cheri says that they will continue to add new lines and items over time and that if a customer doesn't find what they need in stock, they will do the best they can to order it in.

The New Frontier Hotel & Store is open from 8:00 a.m. to 6:00 p.m. Monday through Friday and from 8:00 a.m. to 1:00 p.m. on Saturdays.

See The Archives for past articles.
---
Copyright © 1999, 2000 The Sublette County Journal
All rights reserved. Reproduction by any means must have permission of the Publisher.
The Sublette County Journal, PO Box 3010, Pinedale, WY 82941 Phone 307-367-3713
Publisher/Editor: Rob Shaul editor@scjonline.com