From the pages of
The Sublette County Journal
Volume 4, Number 47 - 7/20/00
brought to you online by Pinedale Online
---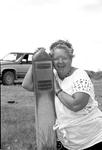 Nancy Penton-Smith gives a hug to the "Squaw Grave" historical marker.

The Pioneer Graves of Sublette County
Spending an afternoon with Nancy Penton-Smith
by Jennifer Binning

I had been waiting for Saturday, July 15th for weeks. Along with 11 others, I was going on a guided tour of the pioneer graves of Sublette County led by none other than Nancy Penton-Smith

Nancy has lived in Sublette County for most of her life, and she knows it's history well. When she married husband Ken, he showed her many, many old graves which he had run across while working as a guide for Lynn Thomas in the Big Sandy area. Her passion for history led Nancy to learn as much as she could about these sites, and this is what Nancy was going to share with us today.

At 9 a.m. we met at K & N Power Sports south of Pinedale, and began an attempt at carpooling. With six people piled in my car, we crossed the highway and drove down a dirt road until it dead-ended at a fence. The group gleefully leapt from the cramped cars and began to walk up a hill to a single, lonely concrete grave marker, bearing the inscription "DeNise Baby Boy." According to Nancy, the DeNise family had moved into the area after hearing that the railroad was going to be coming right through Pinedale. Mr. DeNise homesteaded the Bolder Flat area, cris-crossing the arid plain with hand dug irrigation ditches to bring water to the trains. One year, Mrs. DeNise gave birth to twins, a boy and a girl. The little boy was reportedly deformed in some way, and did not survive the day. Mr. DeNise felt that he had done something terribly wrong at some point in his life in order to have this misfortune visit his family. He bundled up the baby and walked until he could walk no more, and that is where he laid his baby boy to rest, on top of a desolate sagebrush knob, overlooking the DeNise homestead.

The grave was forgotten for about 40 years, until a group of local families formed the Sublette County Historical Society in about 1944. It is said that Jim Harrower and his group pooled their own money with a few gonernment grants and marked this and many other graves in the county with tall, concrete pillars and brass plaques inscribed with the person's name, birth and death dates, if they were known.

After commenting on the hardscrabble existence these settlers scratched out of the dusty Wyoming soil, apparently losing everything when the railroad failed to appear, the group returned to our cars, crossing over several of the ditches the DeNise family had built.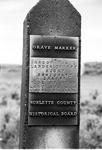 Oregon Trail grave marker.

After a quick reshuffle and the addition of a few more cars for comforts' sake, we were off to the Silver Creek Cemetery in Boulder. Most of us in the group had never heard of the Silver Creek Cemetery, also known as the Steele Cemetery.

After turning onto highway 353 at the Boulder Store and driving for some time, past the Air Force Base and crossing the New Fork River, we turned on a road that goes down between two fields, the second or third turn to the left, and drove until we reached a cable stretched across the road. Just to the left, in an unmarked plot of land, lies the Silver Creek Cemetery.

Except for the large Historical Society monument erected there, no one would know this was a cemetery. There are a few headstones still intact, but the small fences surrounding the family plots have fallen into disrepair. The sagebrush obscures most of the graves and many are marked only with temporary plaques, several of which say only "unknown."

"This is just unfair," says Nancy about the condition of the cemetery, "It is telling us it needs help."

After absorbing the breathtaking view from the cemetery, we climbed back into our cars and headed for the Buckskin Crossing Ranch. Here, owner Richard Smith let the deer, antelope and cattle run free, until he noticed four small burial mounds near his house. After a quick investigation, Mr. Smith discovered that these were the original Big Sandy homesteader's graves, and he fenced off the area. Further investigation revealed that two of the graves belonged to the infant children of Paul Parkenson and Jack Johns. It is unknown who occupies the other two graves, but the Parkenson baby died in 1920.

Just on the edge of the ranch is the Lander Cutoff of the Oregon Trail. This trail is marked by a concrete Oregon Trail monument, one of the very few statewide which has not been vandalized, and three grave markers. The first, which Nancy kneels to give a hug, belongs to "an Indian woman, known by old-timers as 'squaw grave,' died before 1880," according to the inscription. Not far from there is another monument for "8 emigrant graves, side by side. Last burial was a Mr. Walker, 1893." The third monument, which has been forcefully pushed over and broken at the base, marks the grave of an "unknown emigrant."

Once again, we carpooled and made our way up to a point on private property where the CCC began an incredible series of viaducts and ditches, and we found a few more graves overlooking a beautiful green valley. The graves contain a 25-year old Mr. Smith, a Mr. Ellison and the infant son of B.L. and M.A. Mack. Only the Smith and Mack graves are marked with headstones. How these beautiful stones got to such a remote hillside, we have no idea, but they could not have found a more beautiful resting-place. Nancy remembers a fourth grave on the hill, but we were unable to find it.

Finally, Nancy escorted us to the little town of Elkhorn, which lies past the Midland Ranch and is well marked by BLM signs and quite easy to get to. All that is left of the town is a stage stop and a blacksmith shop tucked into a hole by the creek, nearly hidden by willows. Sadly, someone has chosen to vandalize this historic site as well, blasting thousands of bullet holes through the support posts, and smashing beer bottles against the walls. Nearby, the roof of what appears to be a large root cellar has caved in, though mounds of dirt and some concrete show the evidence of its passing.

On our way back to Nancy's house at the end of the day, we mulled over what we had seen on this day, and one young member of the group emphatically states he would never have survived living on the frontier under such harsh conditions. Indeed, as we drive in our air-conditioned, four wheel drive vehicles, we realize that those graves belong to the hardy souls who settled this area, the not-very-distant relatives of our friends and neighbors, and it saddens us to see this history tottering on the edge of oblivion.

See The Archives for past articles.
---
Copyright © 1999, 2000 The Sublette County Journal
All rights reserved. Reproduction by any means must have permission of the Publisher.
The Sublette County Journal, PO Box 3010, Pinedale, WY 82941 Phone 307-367-3713
Publisher/Editor: Rob Shaul editor@scjonline.com