From the pages of
The Sublette County Journal
Volume 4, Number 47 - 7/20/00
brought to you online by Pinedale Online
---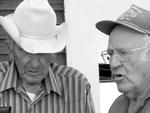 Danielites, Max Boroff and George Rahm, might be cussin' and discussin' the long dry spell, perchance, as they stand in the shade of the old schoolhouse at the Old Timers' Picnic on Sunday.

The Old Timer's Picnic

by Cris Paravicini

Old Timer...One dictionary's definition reads: "veteran, expert, old hand, and master, who is dry behind the ears, sophisticated, experienced, and wise to the ways of the world." Who wouldn't want to hang out with such a great bunch of wise and witty folks? That's exactly what nearly 130 people thought when they gathered at the historic Daniel schoolhouse on Sunday, July 16 to honor our county's elders.

In a tradition that was started nineteen years ago by the Melvin David family, the Daniel Community Center now helps in hosting the annual Old Timer's Picnic. Part of the meal is potluck style and part is provided by the club - the spuds, buns, meat, and drinks. This year's 1/4-slab of beef was generously donated by Dan S. and Barbara Budd of Big Piney with Stan Zierlein as the chief cook.

As the food line circled the buffet tables at high noon, little carefree kids loped about the grassy field surrounding the aging schoolhouse, kicking up little puffs of dust. New puppies and old cow dogs panted and puffed in the shade of the schoolhouse, while laughter floated easily in the hot, stifling air.

By mid-afternoon, a few clouds rolled in to cool brows and sweatbands, and soon, stray raindrops brought on cheers as a fickle storm tap-danced ever so briefly upon the plastic shade tarps that were anchored between two horse trailers. Tiny water puddles formed in the dips and valleys of the tarps then trickled over the edges and onto the picnickers. Chairs shifted, slightly, but occupants still kept in rhythm with the locals' impromptu, sagebrush band. Each year, this little band of volunteer merry makers grows, because folks seem to know: if you're headed for the Old Timers' Picnic, you might just as well throw in your musical instrument and plan to stretch your vocal chords.

Daniel resident, Monte Olsen, welcomed the guests, announced the names of awards recipients - Dele Ball, for her donation of commemorative envelopes; Hayden Huston, Dele Ball, and Bill Sargent for earning lifetime memberships; and the Budds for joining Steve and Mavis James and Kathy Miller in the Quarter of Beef Club. Monte also thanked the numerous people who have selflessly given their time and talents, or donated goods and services to the Daniel Community Center.

Stirred into the mix of music and laughter was talk about "soaking up the heat while we still can," and "it'll rain now that Bob Beard is hayin'," and "it sure as heck has been a long time since I've seen you!" Pinedale daycare owner, Annie Wright, loved the afternoon. She said that the music and atmosphere of the party was reminiscent of her childhood days in Idaho, where her family regularly attended similar functions.

Several folks were returning to their roots here in Sublette County, like the Barber family, Norma Bleamer Anderson, and Hazel Walker and family - making a special trip to the picnic from as far away as Florida, North Dakota, Colorado, and California.

One elderly and witty philosopher said, "And by gawd, we have just enough politickin', goin' on around here to make us old timers feel pretty important, but not so much that it ruins a good party!"

Indeed, youngsters and oldsters alike attend this picnic each third Sunday in July to visit with old friends and make new ones. But, in this day and age, when every possible aspect of yesterday's history and heritage is being collected, documented, and preserved in books, museums, and family collections, these good folks are living it - proudly making tomorrow's history and memories.

See The Archives for past articles.
---
Copyright © 1999, 2000 The Sublette County Journal
All rights reserved. Reproduction by any means must have permission of the Publisher.
The Sublette County Journal, PO Box 3010, Pinedale, WY 82941 Phone 307-367-3713
Publisher/Editor: Rob Shaul editor@scjonline.com