From the pages of
The Sublette County Journal
Volume 4, Number 48 - 7/27/00
brought to you online by Pinedale Online
---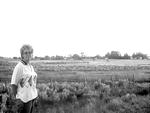 Not Here! Long-time Boulder resident Marilyn Jensen opposes a new RV park and campground across the highway from her home.

Boulder Erupts in Change
P&Z hearing pits neighbor vs. neighbor; newcomer vs. oldtimer
by Rob Shaul

Change wants to come to Boulder, but residents aren't sure what price they are willing to pay in the name of "progress." At least that was the sentiment that reared it's head at last Thursday's Planning & Zoning hearing in Pinedale. The Sublette County Planning & Zoning Commission heard requests for two zoning changes and a conditional use permit in the Boulder area. Boulder residents told the Board that if these changes were approved, the character of the community of Boulder would never be the same.

Neighbor vs. Neighbor

Thursday's hearing was 'hot' from the get go. Originally scheduled to be held in the commissioner's room in the courthouse, so many people arrived to listen and participate that the wisdom of holding the hearing in the cramped, hot Commissioners room came under question. At the suggestion of Ed Wood, P&Z Chairman Jim Bond moved the hearing to the much larger courtroom upstairs, swapping meeting places with the Rural Health Care District Board.

The dissension started with an application by Boulder Store owner Donna Steele to rezone five acres of property on Front Street from Agricultural (A-1, 2 acres) and Mobile/Manufactured Home (MH, 3 acres) to Multiple Family Residential (MFR). Ms. Steele wanted the zone change to erect a four-plex for residential use on her Front Street property. The MFR zoning district allows up to 10 units on five acres. Ms. Steele told the Board she intends to erect one four-plex initially, and possibly erect another four-plex sometime in the future.

The P&Z board sent out 25 letters to neighbors concerning Ms. Steele's application and received several letters opposing the zoning change. Mr. Bond began the hearing by reading these letters into the record.

Dale and Myrna Woirhaye wrote that the Steele four-plex, combined with the other zoning changes being requested, would negatively affect the quality of life in Boulder.

In his letter to the Board, Front Street resident Tyler Wilson told the Board Ms. Steele's four-plex, and the new residents who would reside there, would increase the dust on the road. Mr. Wilson wrote that there were already 17 existing water wells drilled for the current residents, and questioned the impact from a well for the four-plex. Finally, he suggested Ms. Steele's property was a wetland or riparian area, and was currently used extensively by wildlife. "Some areas need to be preserved to maintain the quality of life," he wrote, adding that if Ms. Steele's and the other zoning changes were approved, "the atmosphere on Front Street will be changed forever."

Marilyn and Craig Jensen asked the P&Z Board to place a "freeze" on all Boulder zoning changes until the County Comprehensive Master Plan update was completed.

Wayne and Maryanne Steele expressed the same concerns with traffic and were also concerned about an influx of transient people who would live in the four-plex. They, along with Brad Bousman, also called for a freeze on zoning changes in the Boulder area until the master plan update was compete.

Front Street residents Shirley Jensen and Dave Paoli also expressed concerns about water and increased traffic.

After the letters were read, Ms. Steele defended her application. She noted that Front Street was a County road, and said she'd already researched a well for the four-plex, and was told there was "no problem" with water availability. Concerning wetlands and game concerns, Ms. Steele said there was no spring on the property, and that the water came from an irrigation ditch. The only wildlife she'd seen there were two moose. She emphasized to the commission that there was a need in Boulder for this type of housing. "Boulder is growing," she told them, "we cant' stop it." Three acres of the property is already zoned for mobile homes, and Ms. Steele told the Board, "If my four-plex is not approved, I'll do a trailer park."

Liz David, whose family lives on Front Street, then spoke in opposition to the re-zone and the four-plex. She referred to a 1996 P&Z Commission resolution which called for a review of property that had been rezoned, but not been used for the re-zoning purpose after two years. Since a trailer park had never materialized, Ms. David questioned the validity of the MH zoning for the three acres.

Ms. David also argued that the proposed four-plex was a commercial endeavor, and would be located on property not zoned for commercial use.

Finally, Ms. David questioned the location of high density housing on Front Street, which she said had a total of 13 residents, and expressed concerns about the increased traffic. She urged the Board to retain the historic use of the property and maintain the rural atmosphere of Front Street by denying Ms. Steele's request.

Eric Fairbanks spoke in favor of Ms. Steele's application. Mr. Fairbanks described himself as a "transient oilfield worker," and told those who had written letters opposing the four-plex, "I kind of resent the implication that I'm less moral or come in or go more at night than anyone else."

He said there was a definite need for this type of housing in Boulder for workers supporting the Jonah field.

Bubba Larson also spoke in favor of Ms. Steele's zoning change. He said water and sewer concerns could be addressed, and belittled concerns about increased traffic. "I didn't want to see growth," said Mr. Larson. "It's here. Let's live with it."

Tyler Wilson, speaking to the Board, said the water table on Front Street had dropped 7 feet, and felt the four-plex would decrease the value of his home.

Attorney Ed Wood, representing the Swift Ranch, urged the Board to revisit the original zoning change of the three acres to MH, asking them to delay any changes until the comprehensive plan was updated.

In spite of the neighbors' concerns, the P&Z Commission approved Ms. Steele's rezoning application unanimously. P&Z Board member John Dalhke spoke first, noting that Sublette County is the second least populated county in Wyoming. "We can't just simply throw up fences around our towns and hang up no vacancy signs," he said.

Board member Jay Anderson said he didn't think there had been a negative impact to surrounding property values from the property's mobile home rezoning 15 years ago and that he felt Ms. Steele's proposal was a legitimate request and use of that property.

Peggy Bell told those in attendance that multi-family housing on this property would be a good buffer between residential property on one side and ag land on the other.

Finally, Jim Bond said that if he lived on Front Street, he'd prefer a four-plex to a mobile home park. Ms. Steele's application was approved unanimously.

Neighbor vs. Neighbor II

The P&Z Board also considered an application by Joe's Concrete and Lumber to continue the operation of a gravel pit on Land owned by Donna Steele, with the addition of a concrete manufacturing batch plant.

The gravel pit in question is located on 10 acres of land zoned A-1. The gravel pit was originally approved as a conditional use in 1996 over the objections of the Swift ranch. Sally Swift's home is the nearest residence the gravel pit, sitting approximately 600 yards to the north.

According to the staff report for this application, the batch plant would be used to manufacturer cement for use in the Jonah field. Joe's Concrete would hire two additional employees to operate the plant, and there would be an increase of truck traffic to the pit of 5-6 trucks running 2-3 trips each per day.

The batch plant had been operating at the gravel pit out of compliance due to miscommunication between Joe's Concrete and the Planning & Zoning Office. The plant came to the P&Z office's attention when neighbors complained.

Kurt Meeks of Joe's Concrete addressed the Board first. He apologized for placing the batch plant at the gravel pit without first getting a conditional use permit. "I didn't mean to force the batch plant on anybody," Mr. Meeks told the Board. He said his company wanted to manufacturer cement at Ms. Steele's permit to take advantage of a "business opportunity."

In the Staff Report, county Road & Bridge Supervisor Mike McGinnis expressed concerns with the batch plant at this location for several reasons including visual, dust, noise, and safety (the slow moving cement trucks would need to turn onto State Highway 353 from US Highway 191).

Donna Steele addressed the safety issue in her comments to the Board. She noted than in one day, she had seen several slow moving vehicles, including two owned by the County Road & Bridge Department turning onto State Highway 353 from Hwy 191.

Walter Kenny who lives downwind of the plant, opposed the application over concerns with the dust and Marilyn Jensen told the Board there were other areas better suited for a batch plant.

Bubba Larson countered that Ms. Steele's gravel pit was a "logical place for it," and that Boulder was the closest town to Jonah.

Sally Swift told the commission that noise and dust from the gravel pit affect her. "It will impact my house and my quality of life," she said.

Liz David also expressed concern about dust from the batch plant operation. Mr. Meeks responded that Joe's' Concrete would use a dry vacuum system to control dust, and that he would try to turn down the volume of the reverse beepers on the equipment working in the pit to decrease the noise from the operation.

Bubba Larson belittled dust concerns from the operation. He noted that the two other cement manufacturing plants in the county, Joe's' Concrete, and Reed's Redi-Mix, were both located within town limits, (Joe's - Marbleton, Reed's - Pinedale) and dust hasn't been a problem.

Attorney Ed Wood, representing the Swifts, told the Board that according to the County Planning and Zoning Regulations, cement manufacturing was only allowed on property zoned heavy industrial, and the property in question was zoned A-1.

Gravel pits, and "associated extraction activities" are allowed as a conditional use in A-1 property, but Mr. Wood argued that cement manufacturing could not be considered an associated extraction activity for a gravel pit. "What you're in effect doing is creating a heavy industrial use in a residential area," he told the board.

Later, County Planner Joanne Garnett said it was her interpretation that cement manufacturing was a "associated use" of a gravel pit, and therefore could be covered in a conditional use permit for property zoned A-1. In her staff report, Ms. Garnett wrote that the State Department of Environmental Quality "confirmed that batch plants are typically located a the site of the gravel pit to avoid hauling expenses."

Bubba Larson countered Mr. Woods argument, stating the jump to heavy industrial was not appropriate in this case because the batch plant located at Ms. Steele's gravel pit would not be a permanent use. It would only remain there for the duration of the gravel pit.

Again, the P&Z Board approved the conditional use for the batch plant over the neighbors' objections. Jay Anderson agreed with Ms. Garnett and said the batch plant was a "legitimate and legal use of this property."

Peggy Bell noted that the duration of the batch plant's operation at Ms. Steele's gravel pit was limited by the length of the conditional use permit. John Dahlke made a motion to approve the conditional use, with the requirement that Joe's' Concrete take steps for "aggressive dust" control. Again, the motion passed unanimously.

Newcomer vs. Oldtimer

Perhaps the most contentious application heard by the P&Z Commission last Thursday was that by Albert and Sondra Ellis to rezone 26.4 acres of their property adjacent to State Highway 353 from A-1 to Recreational Services (RS). The purpose for the zone change was to allow the Ellis' to apply for a conditional use permit for a campground with tent sites, cabins, and RV sites.

The Ellis' moved to Sublette County from Jackson, and purchased their ranch in June of 1999, says John Kochever, Sondra's son. Their goal is to combine a llama breeding operation with a llama trekking and outfitting service, along with the campground. The campground and trekking service would hopefully help the Ellis' build a market for their purebred llama's says Albert. They've planned their operation based on a similar business located on the Front Range in Colorado.

Mr. Kochever said his family spoke with the County Planner about their plans prior to purchasing their property and were told by Joanne Garnett that "Their office would be in favor of more commercial development in the Boulder area, and that their operation would be the kind of development they're looking for." He was also made familiar with the public process involved in the zoning change, and said he knew Ms. Garnett's endorsement of the zone change and development didn't mean it was a done deal.

What Mr. Kochever and the Ellis' didn't do was speak with their future neighbors, many of whom spoke in direct opposition to their re-zoning application last Thursday.

Albert Ellis addressed the Commission first. He explained the general operation, adding, "I'm pretty shocked at the opposition to tell you the truth. I didn't think we were still in Jackson." He emphasized that he planned a "relatively small operation" that would be seasonal.

Maryanne Steele told the commission that she was not opposed to growth, but wanted orderly growth. What most concerned her about the Ellis' application was what type of commercial activity would be allowed on the property if it were rezoned to Recreational Services. While the Ellis only planned a campground, Ms. Steele noted that an RS zoning designation would allow such commercial activities as motels, taverns and gift shops. This was what scared her the most, she said. She again asked that the Board delay making a decision until the County Master Plan update is completed.

Marilyn Jensen told the Board her home was just across State Highway 353 from the proposed campground, and that "We would never have purchased ground next to a campground on purpose."

Phelps Swift, Jr. told the Board that a zone change to RS would create a commercial area "two to three times the size of the Boulder Store area."

"We are opening a pretty big door here," said Matt David, asking the commission if there was anyway the County could restrict the extent of development.

"I'm totally against it," said Tyler Wilson, adding that Mr. Ellis told him he moved here because "he loved the area" yet this zoning change could change Boulder forever.

John Dahlke again spoke first. He said he was originally in favor of the zoning change, but that the comments had raised concerns in his mind. "I'm especially sympathize with the Jensens," he said. He would be more comfortable with a conditional use permit just for the campground, and said he would oppose a zoning change.

Jay Anderson said he would vote for the zone change, in recognition of private property rights.

Peggy Bell said she would oppose the zone change, and asked the Ellis' to withdraw their application and discuss their plans with their neighbors.

Jim Bond told the Ellis he wanted more specifics about their planned operation.

Ultimately, the Board voted to table the Ellis' application until they returned with a more detailed plan.

The Journal interviewed Albert Ellis, John Kochever and Marilyn Jensen for further comments earlier this week.

Mr. Ellis reiterated that he was somewhat taken aback by the resistance to his application. "I can understand a lot of the concern, but if it's not a nuclear plant, I'm probably a property rights guy," he said. Mr. Ellis acknowledged that he hadn't spoken to his neighbors about the planned campground.

Both Mr. Ellis and Mr. Kochever said if they weren't allowed to open a campground on their property, it's questionable whether or not they'd keep their ranch.

Both felt Jim Bond's request for a more detailed application was a red herring. They say any more information or detail would be largely speculative.

For her part, Marilyn Jensen is upset the Ellis' didn't speak with her and Craig about their plans. She heard rumors about the proposed campground in June, but didn't see anything official until the public notice was printed in the newspaper. "It was very devastating to us. It's like, my God, you can't imagine the prospect of a big campground across from your house." Ms. Jensen continues that the Ellis' campground would negatively impact "our property value, our way of life, our peace and quite. We have ten acres and it represents our savings, our lives. Everything we do we put into that place." Marilyn says a better spot for the Ellis' campground would be on their property adjacent to Highway 191. She wouldn't oppose it there.

Messrs. Ellis and Kochever say they are investigating the Highway 191 location, however, they say sub-irrigation would mean they'd have to drain 100 acres of hay meadow to dry out 26 acres for the campground. Further, the soil depth at this location may not allow the landscaping they'd like. However, John believes even the Highway 191 location will have opponents. "It's going to be near somebody," he says. "You're not going to make everybody happy."

More Applications On The Way

At least one more zoning change in Boulder is on the way. At its hearing August, the P&Z Commission will consider a request from Lawrence Rice to rezone 1.22 acres on State Highway 353 from Rural Residential to Light Industrial in order to operate a welding shop on the site of the old Boulder Store.

Also, Darlene Staley in the Planning & Zoning Office says some prospective buyers came into her office recently inquiring about the possibility of building a guest ranch on some property they may purchase in the Boulder area.

The applications for Ms. Steele's four-plex, and the batch plant now go to the County Commissioners for the final decision.

Photo credits: Jennifer Binning, Joyce Bohm

See The Archives for past articles.
---
Copyright © 1999, 2000 The Sublette County Journal
All rights reserved. Reproduction by any means must have permission of the Publisher.
The Sublette County Journal, PO Box 3010, Pinedale, WY 82941 Phone 307-367-3713
Publisher/Editor: Rob Shaul editor@scjonline.com