From the pages of
The Sublette County Journal
Volume 4, Number 48 - 7/27/00
brought to you online by Pinedale Online
---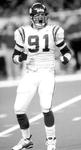 Pinedale native John Burrough is a six year NFL pro and defensive lineman for the Minnesota Vikings.

From a Small Town to the Big Time
John Burrough says despite the work and pressures of the NFL, the fun and excitement never goes away
by Rob Shaul

"I had no idea at all I was going to be drafted," says Minnesota Vikings' defensive lineman and Pinedale High School graduate John Burrough. John was drafted number 245 - four picks from the last player selected - in the seventh round of 1995 NFL draft by the Atlanta Falcons. He has since turned that opportunity into and a six-year NFL career and a trip to the Super Bowl.

It's not all fun and games, however. John describes life in the NFL as one with extreme pressure to perform, with the constant threat of being replaced by someone younger, faster, better.

He Never Planned to Play

Mr. Burrough never planned to be a professional or even a collegiate athlete. He was a gifted three-sport athlete at Pinedale High School, but wasn't recruited by any university or college. After graduating in 1990, he attended Washington State University on an academic scholarship and walked on the Washington State football team, almost earning a football scholarship from Washington State that fall.

The following summer, John got a hernia and underwent surgery in the beginning of July. In the fall of 1991, he transferred to the University of Wyoming and walked on the Cowboy football team. He red-shirted his first year with the Cowboys, but started on the defensive line the next three seasons.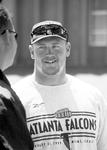 John Burrough when he visted Pinedale earlier this summer.

John was a solid lineman at Wyoming - he earned second team all-conference honors - but didn't stand out nationally. However, the Cowboys had an exceptional fullback named Ryan Christopherson, who drew a lot of interest from NFL scouts. Several team reps flew to Laramie to work out the fullback, and John worked out too - "hoping for a long shot." He did well, putting in some good times, and drew the interest of the Falcons.

"Nerve Racking Experience"

That summer, Mr. Burrough arrived in Georgia for the Falcons' training camp and it wasn't pleasant. "To be a rookie again and go through my first NFL training camp - I'd rather light my hair on fire," declares John.

First, Mr. Burrough says the jump in talent from high school to Division I college football is huge, but the jump from college to the NFL is "ten fold" that in the level of the players' talent and strength. The difference he noticed right off was the speed of the other players and "how fast the game was." That first day, John says he looked over the field at the Falcon's training facility and saw, "80 of the greatest players I'd ever seen in my life, and I said to myself, 'There ain't no way I'm going to be here at the end."

But as the camp progressed, John kept making the cut. "You don't know how good you can be," he says, until you're really pushed and encouraged, and believe in yourself.

He remembers his first pre-season game. The Falcons were playing the Philadelphia Eagles, and Mr. Burrough says he had stomach butterflies so bad, "I wanted to puke. I was just shaking I was so nervous."

Mr. Burrough made the Falcons' roster, and was "basically a special teams player" his rookie season.

Extreme Pressure to Perform

Though John made the Falcons' roster, his job was hardly secure. He says he learned this hard lesson after the second regular season game. He came in on a Tuesday, usually a day off, to lift weights, and out in the practice field he sees the coaches working out four new defensive lineman - any one of which could take his job. It was a sobering experience.

Unlike the other major sports - basketball, baseball, hockey - the NFL payers are not guaranteed a job when they sign with a team. "They can cut you at any moment, and replace you," says Mr. Burrough, adding "they're always looking to replace you. You perform or you're gone." John says a lot of people and fans don't see this side of the game. Fans don't understand the extreme pressure the players feel to prepare for the season and maintain a level of performance throughout the season.

"The reality of the situation is it's a meat market, a billion dollar business," continues Mr. Burrough. "You, the player, are a piece of meat, a commodity."

John kept his job, and in his second, third and fourth years, played a lot of games as a defensive lineman for the Falcons.

During the 1997-98 season, Atlanta had an outstanding year, and entered the playoffs with a 14-2 win/loss record. In a close, overtime game, the Falcons defeated the favored Minnesota Vikings in the NFC Championship game and advanced to the 1998 Super Bowl against the Denver Broncos.

Mr. Burrough describes playing in the Super Bowl as a "fantastic experience," and acknowledges that the Super Bowl is a special game, but says it's not the "magnanimous event" the media makes it out to be. John even seems a somewhat disgusted with the Super Bowl hype. "We're not out there saving lives," he notes, continuing, "The reality is that when the final whistle blows, it's over, and the next season has already begun."

After four years with the Falcons, Mr. Burrough became an unrestricted free agent and signed with the Vikings. Sports writers and other have given a lot of ink to the fact that today's professional athletes don't seem to have any loyalty to the teams, cities and fans they play for, and often take more money to play elsewhere. John points out that there's another side to this, at least in the NFL. "It's a business," he responds, "It's an absolute business." Teams don't even make allowances for superstars. A team may act like it loves you, but John says as soon as you get hurt and can't perform, watch out - "they'll cut you in a heartbeat."

For this reason, players don't have any incentive to be loyal to organizations that aren't loyal to them. Just like the teams, player must look out for their business interests, and make playing decisions based on which teams offer them the most money, and where they feel the most comfortable playing.

Locker Room Talk

Mr. Burrough feels blessed and honored to have played footfall with some truly outstanding men. "What I will remember when I leave this game is the relationships in the locker room and outside the game," he says. "This league is filled with some really great people," he continues, noting that their stories are never covered in the media.

John says life off the field isn't much different from his high school days. Laughing, he describes the "absolute craziness and fun of being in the locker room, with the jokes and pranks" players pull on each other. They are all sharing the same pressures to perform and John says these draw the players together, forming a real camaraderie.

Further, John says all the players have different backgrounds and experiences, and when they're all thrown together on a team, this diversity really adds texture to his relationships with other players. "That's what's fun," he says, "meeting these guys, and figuring out their stories."

Intellectual Side of the Game

When fans watch a NFL football game, we only see the physical competition. What we miss is the intellectual side of the game, and according to John, there's an "extreme mental approach to the game, on every snap." At the beginning of each week, Mr. Burrough receives a big, three-ring binder full of information about Sunday's opponent.

John says the mental preparation for the game "starts with the guy you're playing against." In his case, he dissects the game of the offensive lineman he'll be facing that Sunday, looking for weaknesses and tendencies. "How can I beat him?" John asks himself.

Mr. Burrough credits his former teammate with the Falcons, Lester Archambault, for imparting on him the importance of this mental preparation. He says Mr. Archambault, who now plays for the Broncos, would take home game film and spend hours analyzing the tendencies of his opponent. And the work would pay off during the game.

This analytical approach is then applied to the entire opposing team's offense. The Vikings' defensive players and coaches break down their opponents' offensive formations and personnel packages, says Mr. Burrough. Again, they look for weaknesses that can be exploited.

Overall, John says the mental preparation gives him the edge to compete on Sundays. "You can only do so much physically," he says. Also, he enjoys the intellectual challenge. "It's like a big puzzle," John says, "figuring out what those guys do, and how they do it."

Money, Fame & the Future

John is recognized as a Vikings' player when he goes out in public in Minnesota. He says it never gets old, and he never resents the attention. "It is a joy, an absolute joy to have people interested in your life like that," he says.

He cautions, though, that fans view NFL players as "something greater than we are. But we're men, with all of life's pressures - family, work, etc."

He likes returning to Pinedale, "I can just be me, John Burrough, not a football player."

Mr. Burrough relies on his personal faith to help him keep the money and fame that comes with his job in the NFL all in perspective. A strong and devout Christian, John says being an NFL player gives him a "great platform" from which to share his faith through ministry. He was very involved with several congregations when he played for Atlanta, and has continued growing his ministry work with churches in Minnesota.

Looking ahead, Mr. Burrough knows his NFL career won't last forever. He has a degree in geophysics from the University of Wyoming, and for a time considered working in the nuclear waste disposal field after retiring from the NFL. Most recently, however, Mr. Burrough says he wants to start his own faith-based foundation, and is currently investigating this possibility. While he's definitely interested in physics and the nuclear waste disposal field, John says the more years he plays, the more he thinks his life's work will be working with and for people in some capacity. "I think working with people is where it's at," he says. "If I can figure out how to do that, I think that's the way I'll go."

Mr. Burrough is single, but is currently in a committed relationship, and certainly plans to have a family sometime in the future. "I think kids are where it's at," he says, acknowledging his love of children.

A Little Boy's Dream

"I view it as a gift of grace by God, that I have a place to play football," says John. Despite the job insecurity and the pressures of fame, Mr. Burrough loves his job and realized he's fulfilling every little boy's dream when he plays NFL football on Sundays. "The excitement of the game does not go away," he emphasizes.

John remembers a game between the Falcons and the New England Patriots. He met the Patriots' running back, Curtis Martin coming around the corner, and laid a good stick on him. "I just looped him up, with his legs flying through the air," says John, laughing excitedly. He loves the speed of the NFL games, "with all the players flying around, hitting each other." He concludes, "The struggles, fears, and pain you go through - it's all worth it come Sunday because it's just so much fun out there."

Photo credits: Photo courtesy Minnesota Vikings, Rob Shaul

See The Archives for past articles.
---
Copyright © 1999, 2000 The Sublette County Journal
All rights reserved. Reproduction by any means must have permission of the Publisher.
The Sublette County Journal, PO Box 3010, Pinedale, WY 82941 Phone 307-367-3713
Publisher/Editor: Rob Shaul editor@scjonline.com