From the pages of
The Sublette County Journal
Volume 4, Number 8 - 10/21/99
brought to you online by Pinedale Online
---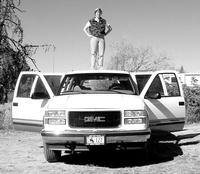 The author and her 'Burban.

'Burbans: Size Does Matter
Sublette County women tell why they love their Suburbans.
by Jennifer Binning

I thought at first my new boss was being a male chauvinist pig. "Why," he asked one day, "does such a little lady like you drive such a huge boat?" First of all, I informed him I do not like being referred to as "little lady," and second, my vehicle is a suburban, not a boat.

Rob replied he was referring to my height (5 feet 2.5 inches, thank you), nothing else, and he stuck by his assessment of my GMC as a boat. This has become the fodder for many heated discussions concerning the merits of my suburban, AKA "the boat," versus his Subaru, AKA "Scooby Doo."

I simply told Mr. Shaul that I enjoyed going places with my two daughters and their friends. This was impossible in my previous car, a dual air bag Subaru Outback wagon, unless I tied a child or two to the roof rack. I also enjoy the option of being able to shop till I drop, and still having enough room in the car for food, children and, well, ME.

"Doesn't the thing drive like a cruise ship?" he asks. No way, I respond. I went from a Subaru Outback to my Suburban with no trouble. My 'Burban drives just like a car, if not better. He does not believe me, and given the condition of the bumpers on his car, I am not about to let him see for himself!

Mr. Shaul noticed that there has been a proliferation of Suburbans in Sublette County in the last few years, and he asked me to find out why other women like their "boats."

A mother of three, Jennifer Winters did not want a suburban at first. " I wanted a Ford Explorer. When I sat in the Explorer, all I saw was the room! I was having visions of all the stuff I could carry around in it." Husband Gil was not as sure. He asked Jen if she would go to Jackson with him to look at the Suburbans just once. Jen relented and as soon as she sat in it, she fell in love. "Wow! It looks like a bus back there," she thought. She also had no problem switching from her Ford Taurus to the much longer, higher 'Burban. "It still feels like a car, and I have had no problem parking it wherever I go."

Chris Meiring echoes these sentiments, saying, "It is big, but it doesn't seem that big." Chris' previous car was a Toyota convertible, but when she had children, safety became her #1 priority. Chris really likes how secure she feels in her suburban, which has 125 thousand miles on it, and is still going strong. She said she has hit two deer while driving hers, and although the front end had some damage, she never even felt the impact. "I never worry," she says, when driving her suburban.

"To me, it was a functional vehicle," says mother of five Chris Cramer. She and husband Dennis had been driving a van to transport their brood, but they really wanted something with four-wheel drive. Chris agrees the suburban is very stable on the road, and it drives much better than her van. The Cramers took out the middle seat and replaced it with two captains' chairs to make getting into the back a bit easier. It took a long time for her family to adjust to the fact the new car had 4 doors, instead of the one sliding door of the van. The girls would all queue up on one side of the car and pile in. They have since discovered the door on the other side, and life is good at the Cramers. "It is much easier to haul things in," she adds.

Louann Heydt sells Suburbans at E & L Motors in Big Piney, and she owns one herself. "Women love them," she says. Often, a woman will be a bit intimidated by the size of the car, but "once they try it, they are hooked." Many of the customers coming in looking for a suburban are repeat buyers, and not all of them have children still living at home. Sometimes the empty nesters will downsize to a Tahoe or Yukon, but in general, once a person drives a suburban, they rarely change.

Louann reports that pewter seems to be the hot color this year, and with a starting price of around $34,000. The market is hot for good, used Suburbans as well.

By in large, the most common selling point for the suburban is size. All the ladies I spoke with loved the room, both passenger and cargo. Jennifer Winters notes that travel in her family can become stressful, especially when her husband has to become a contortionist to get into a car. In the Suburban, there is plenty of room, and she and Gil can "have a conversation without breathing on one another." If the boys get in a fight while driving, she can banish each one to their own entire seat for the duration of the trip. The only regret Jennifer has is that she did not buy one sooner.

The is one problem with 'Burbans. Chris Meiring and I periodically go into shock when filling up that big 42-gallon gas tank. But hey, what can you expect when you are driving a, er, boat.

See The Archives for past articles.
---
Copyright © 1999 The Sublette County Journal
All rights reserved. Reproduction by any means must have permission of the Publisher.
The Sublette County Journal, PO Box 3010, Pinedale, WY 82941 Phone 307-367-3713
Publisher/Editor: Rob Shaul editor@scjonline.com