From the pages of
The Sublette County Journal
Volume 4, Number 8 - 10/21/99
brought to you online by Pinedale Online
---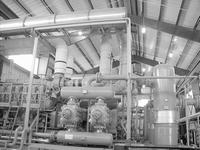 One of the new multi-million dollar generators at the Luman Compressor Station.

New Jonah Gas Pipeline Dedicated
Local officials sing praises of natural gas development in Wyoming.
by Jennifer Binning

Last Saturday, October 16, hundreds of people gathered at Jonah Gas Gathering Company's Luman Compressor Station in Jonah Field in southern Sublette County to dedicate the newly expanded gas gathering system for southwestern Wyoming. The crowd assembled was a well-blended mix of JGGC employees, local and state officials, corporate officers, and representatives from the offices of our national legislature.

The event began with tours of the impressive Luman Compressor Station, and was followed by speeches, a ribbon cutting ceremony, and a barbecue lunch.

The story of the Jonah Gas Gathering Company has all the hallmarks of a true Wyoming success story, It began in 1975 with the drilling of the first well in the Jonah Field by Davis Oil. Davis was not particularly excited by the gas prospects in Jonah Field, and after several years, many changes in ownership and more wells deemed non-commercial, McMurry Oil Company purchased the property, which then included three wells and 25,000 acres of leased land.

McMurry raised the cash needed to test the wells by selling interest in the leases to Fort Collins Consolidated Royalties, Inc., and Nerd Enterprises, owned by Mick McMurry, son of W.N. McMurry, founder of McMurry Oil.

The first pipeline installed was a 10-mile, 4-inch line that linked the wells to Williams Field Services. When the wells were found to produce more gas than originally forecast, John Martin, President of McMurry Oil, played a hunch and leased an additional 75,000 acres surrounding Jonah Field.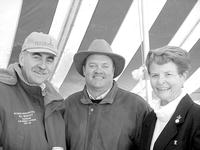 Eli BeBout, J.W. Williams and Rose Skinner

When well after well proved to be winners, it became apparent the only thing holding back the company was the need for an improved, higher volume method to move the gas to Opal, where it is processed and distributed. In 1997, a 23-mile, 16-inch line was added to existing infrastructure, bringing the total daily transportation capacity from Jonah Field to 175 million cubic feet per day.

With Jonah's compressor facilities at Luman Station and Bird Canyon, and the newly dedicated 50.5 mile pipeline, the company can move up to 320 million cubic feet of gas per day. This figure is expected to increase to 450 million cubic feet per day once additional pipe is laid, and more horse power is put online at the Bird Canyon facility.

All of this progress has forced members of the McMurry family into positions they never dreamed of. According to John Martin, a family wager is about to come to fruition. Mick McMurry had made a bet with Mr. Martin that if Jonah Field ever produced over 250 million cubic feet per day, he would actually play a round of golf with as many witnesses as cared to be there. Mr. McMurry has never before felt the urge to pick up a golf club, but according to the figures, he will be chasing a little ball down the fairway in the very near future. He may also be joined by his father, C.W. McMurry, who made the same wager based on production of 300 million cubic feet per day. The elder McMurry denies making the bet, stating he said he would "think about it." However, his offspring all claim to be witnesses to the contrary.

Pinedale Mayor Rose Skinner summed up all of the speakers' comments when she noted the tremendous contribution McMurry Oil and Jonah Gas Gathering have made to the local economy. According to Mr. Martin, McMurry had only 6 employees in 1992, and now they employ 75 people, 43 of which are Sublette County residents, with a total annual payroll of over $2 million. The estimated total tax revenues from 1992 through 1999 are $78 million, of which over $2 million returns to the County, McMurry Oil accounting for almost half of that total. It is estimated that the total 12-year tax revenues for Sublette County will be in excess of $12 million, with McMurry Oil paying almost $5 million of that sum.

Mr. Martin and operations manager, Tom Fiore, both noted that all of the equipment installed is the state-of-the-art, cleanest operating, best available technology. When one stands outside of the building, you cannot see or smell any type of emissions whatsoever. The entire station is powered by natural gas, and the electricity needed to run the myriad computers there comes from two generators, which also produce very low emissions. If necessary, the entire operation may be monitored and run from a home computer hundreds of miles away from Jonah Field.

Finally, Speaker of the House for the Wyoming House of Representatives, Eli Bebout sang the praises of the McMurry family and their employees, saying this celebration was "about people taking a risk, going out and doing it. You stuck to it and made the thing work."

Photo credits: Jennifer Binning, Jennifer Binning

See The Archives for past articles.
---
Copyright © 1999 The Sublette County Journal
All rights reserved. Reproduction by any means must have permission of the Publisher.
The Sublette County Journal, PO Box 3010, Pinedale, WY 82941 Phone 307-367-3713
Publisher/Editor: Rob Shaul editor@scjonline.com