From the pages of
The Sublette County Journal
Volume 4, Number 9 - 10/28/99
brought to you online by Pinedale Online
---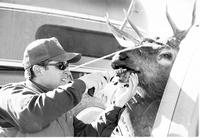 Makes Your Gums Hurt! - Dustin Shorma with the Game & Fish Department digs out a tooth or two from a lucky hunter's bull elk at the Daniel Junction G&F Check Station last Sunday. The teeth will be used for research purposes.

3 Hours at a G&F Check Station
"All Hunters Must Stop."
by Rob Shaul

Two years ago I sat in and observed a Game & Fish Department check station that was set up on a highway turnout south of Big Piney. I found the interaction between the hunters and sportsmen who stopped, and the Game & Fish personnel manning the check station to be fascinating, and overheard in-depth conversations about wildlife habitat, hunting ethics, the size of the elk and deer herds, and several wonderful hunting stories. Last Sunday, October 24, I spent three hours listening in and snapping pictures at a G&F check station set up by biologist Doug McWhirter at the Daniel Junction. From this location, Doug hoped to stop hunters heading south from the Hoback and east from Wyoming Range. What follows are the log highlights from my three hours at the check station with Doug and two other G&F personnel, Dustin Shorma and Mark Gocke, both out of Jackson.

12:35 p.m. I arrive at the check station. Doug, Dustin, and Mark jokingly complain of the heat and Doug predicts things will be slow because of the good weather, and thus, poor hunting conditions.

12:53 p.m. A grizzled gentleman driving an old 2WD Chevy pickup with Oklahoma plates stops. He sports a raggedy old cowboy hat, dirty jeans, and a wide smile. In the back of his truck he's got a four-point raghorn bull, and a small forky deer. He shot the elk west of Big Piney and got the deer south of Casper. He's yet to go hunting for his antelope, somewhere down near Saratoga. In his front seat, riding along on the passenger side of his cluttered cab, is the deer's hide. Mark takes a picture of the hide and he and Dustin smile at each other. "Hardcore," we all think.

This is an animated fella, and he keeps us entertained for several minutes with sheep hunting, deer hunting, college-age son, and broken-down truck stories. Soon he's on his way west toward Horse Creek to catch a fish. "And I bet he does," says Mark. "He's just tenacious enough to fish until he gets one." All nod in agreement.

1:01 p.m. Mark Chapman from Rock Springs arrives pulling a small tractor on a flatbed trailer. He's not hunting, but wants to complain about some hunters on 4-wheelers who were trespassing on his property up Beaver this morning. The hunters had stopped earlier and told Doug some guy had come after them with a hammer earlier. "That was me," says Mr. Chapman, whose recollection of the event is quite different than the hunters' who he says were sneaking across his property to get around a road closure. He complains that he saw "four or five" trucks illegally on top of Tripod this morning - the road was supposed to be closed. Doug shakes his head knowingly. He notes that when the road closures aren't enforced, the few hunters who abide by the closures feel penalized, "and the whole thing breaks down."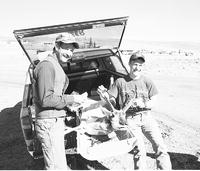 Doug with Josh Kilpatrick of Jackson.

1:23 p.m. An older guy in a big white Dodge with Colorado plates pulls in. He hasn't shot anything, but takes time to show Doug a snapshot of the bull elk he shot last year on the Elk Refuge.

1:29 p.m. A family from Jackson arrives to check in a nice, 14" antelope buck the teenage son has killed. After chasing the buck all over the Bench Corral feedground and missing, they end up seeing him from the highway and the boy finally kills the buck just outside Marbleton. They complain about the hunting ethics of a girl and her father they observed wound an antelope. The girl illegally shot from the across the hood of the truck.

1:36 p.m. A family from Virginia stops. They've hunted in Sublette County for several years and say this year's weather is the "hottest it's been - ever!"

1:40 p.m. Doug checks in a small antelope buck for an older gentleman from Teton County. The gentleman has an European accent, and tells how he had a hard time catching up to the buck and decided to drive parallel to some power lines. "I read some Indian stories," he winks jokingly, as if paralleling power lines is a sage old trick for hunting antelope. He notices I'm taking notes and snapping pictures. "Don't tell 'em I'm from Jackson," he says. "I'm from Wilson - Teton Pass - for 35 years. And I'm not a tourist either!"

1:51 p.m. A guy with county 4 plates stops. He has a cow moose in his truck bed. After checking the license, Dustin checks and sees that the cow is wet. It's illegal to kill a cow moose with a calf in tow and he questions the hunter about it. "We watched her for a long time and didn't see a calf," the man responds. Dustin and Doug let him go, uncited. They both acknowledge how it can be difficult to spot a calf with the cow if they're in the willows. Dustin notes that any court would throw the case out unless the hunter was actually seen taking the cow.

2:17 p.m. A man and his son in from Rock Springs check in a 5-point bull elk and cow elk they shot in area 87, Dell Creek. The man is pleased with the number of deer he saw - "lots of does and fawns and a pretty nice buck, too."

2:26 p.m. Two men pull in real discouraged and grumpy at not seeing any elk. After they leave, Doug comments that some hunters blame their lack of hunting success on G&F biologists like him. He wonders if they think buying a hunting license comes with a guarantee. Overall, he thinks elk hunters seem to accept failure better than deer hunters, though, and therefore beat up on the biologists less. Elk hunters have a lower "ass-chewin' ratio," he says.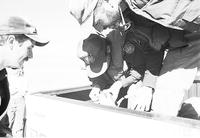 Stuff only G&F guys can appreciate: Doug, Dustin and Mark inspect a dead doe antelope with abnormal teeth wear patterns.

2:54 p.m. Two men in a truck with county 4 plates stop. "We had our chances," at elk, they say, "but the weather killed us."

3:04 p.m. Mike and Scott Grove of Pinedale stop, towing a horse trailer. They look dirty, tired, hungry and discouraged. They've been hunting "zebra," Scott says, sarcastically.

3:24 p.m. A young family from Rock Springs stops. The man has shot a small five-point bull elk in the Hoback area - the "only elk I saw." He says he tried to find someone with horses to pack it out, and an outfitter offered to do for $250. He declined. "My father and mother-in-law helped me pack it out," he says. "Me and my father-in-law each packed out a half and my mother-in-law packed out the head." Now that's one hell of a mother-in-law!, I think to myself.

3:26 p.m. A hunter from Sweetwater County pulls in with a 35" bull moose he shot in the bottom of Lead Creek. Dustin collects some teeth, and the hunter describes another bull moose he saw with "elk horns" - a "3 X 4." Both Dustin and Doug say it's not unusual for a bull moose not to have paddles.

3:34 p.m. An elk hunter and his son arrive in a muddy jeep. They haven't seen anything. Dustin asks where they found the water in this dry weather. The man says they had to cross a creek, and ended up getting stuck. "Thank God I had a winch," he comments. He tells Doug about a wounded bull moose he saw and hopes someone takes it before the G&F has to put it down. "I just love being up here," he concludes, "I don't need to get anything."

3:40 p.m. Things are slowing down, and I take my leave.

Photo credits: Roby Shaul, Rob Shaul, Rob Shaul, Rob Shaul

See The Archives for past articles.
---
Copyright © 1999 The Sublette County Journal
All rights reserved. Reproduction by any means must have permission of the Publisher.
The Sublette County Journal, PO Box 3010, Pinedale, WY 82941 Phone 307-367-3713
Publisher/Editor: Rob Shaul editor@scjonline.com