From the pages of
The Sublette County Journal
Volume 4, Number 9 - 10/28/99
brought to you online by Pinedale Online
---
Is the Halloween Tradition Fading?
Religious concerns, avoiding depictions of violence and child safety take the "spook" out of Halloween.
by Rob Shaul

This year, for the first time, both the Pinedale and Big Piney elementary schools will hold alternative parties for students whose parents don't want them to participate in the schools' Halloween activities. The student senate at the Pinedale Middle School voted to have a "Hawaiian Luau" dance this Friday, instead of a Halloween dance. In Big Piney, the middle school isn't holding any activities at all this week centered on Halloween - no costumes, parties, or anything. We wondered, is the Halloween Tradition fading?

Religious Concerns

One challenge to the tradition of Halloween has roots in religion. Many devout Christians are vocalizing religious concerns and objections with the holiday. These concerns have two general strains. First, there's the argument that Halloween is the most important day of the year for the occult and Satan worshippers. Secondly, Halloween celebrates dressing up as bad or evil characters such as witches and vampires, and carrying out pranks. Why would we want to celebrate this type of activity? - they ask.

Last year, a small group of parents with children in the Pinedale Elementary School expressed religious objections to celebrating Halloween in the classroom. The school addressed their concerns by sending a survey home to all of the parents, asking whether or not the school should continue to celebrate Halloween. The survey came back overwhelmingly in favor of continuing the tradition.

While the issue has not come up directly again this year, the elementary school is working to accommodate students whose parents don't want them participating in Halloween activities.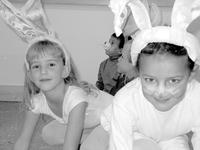 Pinedale Christian School Students at their "Harvest Party" last week.

At 2 p.m. this Friday, each individual class at the Pinedale Elementary School will hold its annual Halloween party complete with costumes and treats. At the same time, the school is hosting a "Harvest Party" in the school library for students who don't celebrate Halloween.

Elementary Principal Pat Morgan says that thus far she's heard from two parents who have specifically asked that their children not participate in any Halloween activities and attend the alternative party. Both parents had religious concerns with the holiday.

Ms. Morgan doesn't think these objections are anything new, but she does feel people with religious objections to Halloween are more vocal about it now.

Chris Meiring, principal of the Big Piney Elementary School says that for the first time, it is also holding an alternative event for students who don't want to celebrate Halloween. Like Pinedale, the Big Piney classes will hold Halloween parties the last hour on Friday. An alternative activity for students who don't want to participate will be held in the library.

Ms. Meiring says she likes the idea of having an alternative activity for students who don't celebrate Halloween. This way, these kids don't have to leave the school.

Thus far, Chris has heard from one parent who definitely doesn't want her child to participate in the Halloween activities. She expects "at most," a half-dozen kids to attend the alternative activity.

Wanting to be sensitive to fellow students who have religious objections to Halloween may have had some impact in the Pinedale Middle School student senate's choice of an Hawaiian Luau theme for this Friday's dance.

Middle School Prinicpal Mike Vassallo listened in on the student senate's discussion and says there was one comment made about want-ing to be sensitive to kids who didn't believe in celebrating Halloween. "The kids are sensitive that Halloween runs contrary to other people's beliefs," says Mr. Vassallo. "We teach the kids to respect and have tolerance for others," he added.

Despite this comment, Mr. Vassallo's not sure this comment weighed in the decision to decide on a Hawaiian Luau theme for the dance. It could be just as likely that the kids wanted to wear shorts and t-shirts while the weather was still nice.

This Friday will be a costume dress-up day for students at the Pinedale Middle School. Mr. Vassalo adds that the students are holding a costume contest. He considers "blood and guts" props, and props or costumes that are violent in nature, to be inappropriate, but says there has never been a problem with students' costumes in the past.

Mr. Vassallo adds that he received one call from a parent who was concerned the school wasn't going to celebrate Halloween. This parent wanted their kid to wear a costume to the dance.

Big Piney Middle School isn't even going to have a costume day, says Principal Gerry Chase. His school will hold a "Fall Fun Day" on Friday afternoon to celebrate the end of the quarter, but nothing special is planned to celebrate Halloween.

Religious objections to Halloween are paramount in the Pinedale Christian School's decision not to conduct any Halloween activities. The school's instructor, Crystal Updyke, describes Halloween as an "actual holiday for Satanists," and thus, "not a thing to be trifled with."

Instead of celebrating Halloween, last week the Christian School held a "Harvest Party," the theme of which was Aesop's fable, "The Tortoise and the Hare." The Christian School's students dressed in costumes as either the tortoise or the hare and played games related to the fable. After the games, they enjoyed refreshments.

Ms. Updyke understands that her students will see other children in the community dressing up in costumes, which is why they were encouraged to dress as a tortoise or a hare. Though she has strong religious objections to Halloween, she says she doesn't teach her students that celebrating the holiday is evil, but rather, each is given the opportunity to do the right thing.

Despite the Christian School's policy, at least two of the parents with children at the school plan to allow their kids to participate in other Halloween activities.

Concerns About Violence

Halloween's spooky tradition of celebrating blood, guts, and other ghoulishness has also raised concerns in recent years, says Pinedale Elementary Principal, Pat Morgan. "If we really want to stop violence, we shouldn't condone it," she says. "Times have changed, and we need to change with the times."

In her weekly newsletter, Ms. Morgan asked parents to emphasize the more positive, non-ghoulish, less violent costumes with their kids.

While they don't have state policies, both Chris Meiring at the Big Piney Elementary School and Mike Vassallo at the Pinedale Middle School also won't allow inappropriate, overly violent or gory costumes. However, neither expects much of a problem. Ms. Meiring says the most popular children's movie usually dominates Halloween costume choices. This year she expects to see plenty of Star Wars costumes.

The End of "Trick or Treating"?

Trick or treating has always been one of the core elements of Halloween, but even this stalwart is fading, primarily for safety issues. Mr. Vassallo notes that a decade ago, national news reports were rife with stories of poisoned candy and razor blades in apples injuring kids who had been out trick or treating on Halloween.

In response to these safety concerns, Halloween parties are slowly replacing traditional trick or treating. In Pinedale, the big party occurs at the Sublette Center Halloween Open House. This is the fifth year for the open house, in which center residents pass out candy to costumed kids passing through. According to Dawn Mitchell, who is coordinating the open house, the event has grown every year and this year the Sublette Center collected $1,080 in donations to buy Halloween candy.

As the Sublette Center's open house has gained popularity, Dawn has noticed that the door-to-door trick or treating has declined significantly. She remembers when Redstone used to be full of kids on Halloween. Today, some homeowners are surprised without candy when the few kids who do venture out show up unexpectedly at their doors.

Dawn points to the Sublette Center's open house as part of the reason for the decline in door-to-door trick or treating. "The residents give a handful of candy at a time," she says, "there's no need for kids to go anywhere else."

Pinedale Animal Control Officer Julie Early certainly hopes the presence of the mountain lion in town diminishes trick or treating in Pinedale this year. "I would not let my little bitsy kids get all dressed up and walk up and down the streets at night," she says, "it's just an invitation to eat."

Signs of Life

Though it may seem that the Halloween tradition is fading, there are some strong local signs that the holiday is alive and well. First, Halloween traditions are being taught to our youngest students. Both the Pinedale Preschool and the Children's Discovery Center plan Halloween activities for their preschoolers this week.

Friday is an optional costume day for students at the Pinedale Preschool, says Leslie Swank. Ms. Swank says her students have been doing activities with pumpkins, black cats, and spiders, and have even worked Halloween into the education curriculum. For example, they've used Halloween spiders as an opportunity to study spiders in general.

Leslie has heard from one parent who asked that the Preschool not do the real "spooky or scary stuff." She says her staff is sensitive to a variety of concerns and believes it's possible to have fun celebrating Halloween without being "scary or threatening."

Children at the Discovery Center will also celebrate Halloween, says director Carol Chidsey. Students are encouraged to wear costumes Friday, and the center plans the annual inter-generational Halloween party with the residents of the Sublette Center on that day. Discovery Center kids have been active doing Halloween-related activities, such as making pumpkin muffins this week.

Carol says she does have two parents who, for religious reasons, don't want their children to participate in the Halloween activities. They will have their kids skip Friday's activities.

Second, the community of Boulder usually puts on its own Halloween carnival in the Boulder Community Center the weekend before Halloween, says Cassy Johnston. The local FFA, volunteer fire department, and 4-H help organize games, a cake walk and a "spook house." Cassy says the carnival draws kids in costume from all over the county and is "standing room only." The event had to be cancelled this year, however, due to construction on the community center. Cassy says they've had lots of people ask, " When's the carnival this year?"

Finally, there's the town of LaBarge and the LaBarge Elementary School. "Halloween is just huge in LaBarge," says Chris Meiring, who is also principal of the LaBarge Elementary School.

The annual Halloween Carnival has been hosted by the LaBarge Elementary School for 33 years, says the school secretary, Eleanor Johnston. The carnival is organized by the LaBarge Parent-Teacher's Organization and is the PTO's largest fundraiser. Proceeds from the carnival send LaBarge students to the Teton Science School, and have purchased musical instruments and computer software for the school.

This year's carnival takes place Saturday from 4-6 p.m. and includes games, a "spook house," and a cake walk. The kids trick or treat throughout the town from 6-8 p.m. Later in the evening, adults get to celebrate the holiday at the Eagle Bar's Halloween costume party and dance.

The majority of people in LaBarge attend the carnival and/or decorate for the trick or treaters, says Mrs. Johnston. She estimates LaBarge Elementary has a 99% student participation rate in the carnival and other Halloween activities. She's not heard from any parents who don't want their kids to participate. "I expect to see a lot of little Batmans, cowboys, cute little witches and an abundance of princesses," says Mrs. Johnston. "In the past we've even had a little red devil or two."

Jennifer Binning contributed to this story.

Photo credits: Jennifer Binning

See The Archives for past articles.
---
Copyright © 1999 The Sublette County Journal
All rights reserved. Reproduction by any means must have permission of the Publisher.
The Sublette County Journal, PO Box 3010, Pinedale, WY 82941 Phone 307-367-3713
Publisher/Editor: Rob Shaul editor@scjonline.com