From the pages of
The Sublette County Journal
Volume 4, Number 9 - 10/28/99
brought to you online by Pinedale Online
---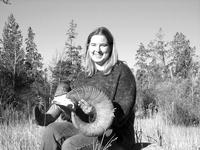 Beau Faler and her trophy.

Beau Faler's Bighorn Ram Continues Family Tradition

by Jennifer Binning

The last weekend in September of this year is one that Beau Faler will tell her grandchildren about. This is the year Beau made her addition to a long line of enormous Faler bighorn rams.

Accompanied by her parents and some long-time family friends, Beau was guided by Terry Reach on the week-long bighorn hunt, high in the Wind River Mountains.

This was the first time Beau had drawn a bighorn permit, and she was ready for the hunt. "I have wanted to shoot a bighorn ever since I saw my dad's," she says with a grin. Beau grew up in a household listening to her older brother and sisters rave about the high country and the thrill and challenge of the hunt. She knew it was only a matter of time before she got to go as well.

After a few days establishing a base camp, Beau, her father Jud, Terry, and two others climbed up into the rocks well above tree line and scouted the area for three days. They had seen several rams during this time, but they were too far away to even consider trying to track. The group then returned to basecamp and made day trips into the rocks from then on.

On the seventh day of the trip, Terry finally saw a group of rams on the back side of Square Top Mountain, and he loped back two miles to find Beau and bring her to a spot above the sheep for a good shot. "My heart was going a million miles an hour, but Terry really did a great job building up my confidence," she said.

Positioned at about a 40-degree angle above the ram, Beau positioned her father's .270 Weatherby and squeezed off a shot. The ram collapsed in a heap, shot through the lungs at well over 300 yards.

According to local taxidermist Ralph Faler, the ram scored a respectable 160 points, which would not quite place it in the record books, but comes mighty close. Beau's father, Jud, the holder of a Grand Slam of mountain sheep himself, estimated the ram's age at around 12 years old. Beau noted he only had about four teeth left in his head. Beau wondered whether the old man would have made it through another winter, even though he had lots of good quality meat on him, which the Falers boned out and packed out of the mountains on their backs.

Beau said she felt like she was carrying on a family tradition when she returned from her successful hunt. Her father has many ram mounts that are displayed in Faler's General Store, but not even Jud can hold a candle to Beau's great-great uncle Ernie Faler.

Ernie was a 75-year old Wyoming native when he was featured in Wyoming Wildlife in 1969. According to the article, Mr. Faler was a hunter well before there were established and enforced hunting laws. Over the course of 56 years of hunting the elusive bighorn, Mr. Faler shot 62 rams, taking the last one in 1962. When asked to recall his best year hunting sheep, Mr. Faler replied, "Do you mean my best year, or my best day?" Apparently, Mr. Faler had killed six rams with as many shots in one day. These were people who lived off of the meat they could kill, and not a single animal went to waste. "We hunted for meat and we hunted for recreation. We hunted to live and we lived to hunt. These are the facts of life," he said in 1969.

For Beau, bringing home a beautiful trophy ram was a treat, but the best part of the entire trip was getting to know her parents better. "Spending eight days on a mountain with someone, you learn a lot about them," she said. The weather was less than ideal, with the base camp party spending several cold, wet days in a snowstorm, but "mom was a real trooper."

When Beau's sheep was finally brought down to the base camp, Judd looked down at his youngest daughter and said, " I am damn proud of you." Beau smiles at the memory, and says, "Words just can't explain how that makes you feel ... We had a lot of fun."

Photo credits: Jennifer Binning

See The Archives for past articles.
---
Copyright © 1999 The Sublette County Journal
All rights reserved. Reproduction by any means must have permission of the Publisher.
The Sublette County Journal, PO Box 3010, Pinedale, WY 82941 Phone 307-367-3713
Publisher/Editor: Rob Shaul editor@scjonline.com