From the pages of
The Sublette County Journal
Volume 5, Number 1 - 8/31/00
brought to you online by Pinedale Online
---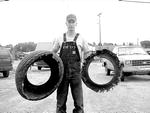 Performance Tech's Ryan Persinger with what's left of a Firestone tire that separated. One of Ryan's customers brought the tire into Performance Tech and had new tires put on his vehicle.

Firestone Tire Recall Impacts Sublette County
Ford Explorer in recent Hwy 189 rollover had recalled Firestone tires
by Jennifer Binning

According to Keith Rounds, Public Information Officer at the Wyoming Highway Patrol office in Cheyenne, the car involved in the rollover that killed two people south of Big Piney did have Firestone ATX 235 75R15 tires. These are the tires that Firestone has recalled nationwide.

Although reluctant to attribute the recalled tires to the cause of the accident, Mr. Rounds would only say, "we know the tire did separate and we know the car did tip over."

On August 9, Firestone issued a voluntary recall of all P235/75R15 tires in the country, totaling 6.5 million tires.

The tires were sold as standard equipment on Ford Explorers, Rangers, F150's Mercury Mountaineers, Mazda Navajo's and B-Series light trucks

Local repair shops and tire stores have been hit hard by the demandfor tires to be replaced by those being recalled.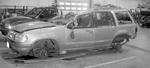 Ford Explorer involved in last week's fatal rollover accident near Big Piney.

Lance Koppenhafer of LK Repair in Pinedale said they have had "quite a few" people coming in to change their Firestone tires and Steve Griggs of the Tire Store and Ryan Persinger of Performance Tech agree.

Mr. Koppenhafer said that he has seen a few of the recalled tires that had definite defects, in fact one lady came in with a flat that had ripped right down the center of the tire. Mr. Griggs has also seen quite a few defects in the recalled tires, and he has been trying to get replacement tires for two weeks now with no success.

A soon as the news hit about the tire recall affecting Ford Explorers, the Sublette County Sheriff's Department lost no time in having the Firestone tires on their brand new Explorers changed. Kay Picerno in the Big Piney SCSO discovered that her car also sported the tires and taking no chances, she had them changed immediately.

Because Ford has urged owners of their cars and trucks to change their tires immediately if they have been recalled, worried motorists have been flocking to local shops for a tire change, causing a nationwide shortage of 15" truck tires. Last week, Mr. Koppenhafer ordered 20 tires and only received 7. He had one customer who drove in on brand new Firestones which were unaffected by the recall who insisted on a different brand; "It bothered him, he did not feel safe with them," adds Lance.

Firestone is giving people who are affected by the recall free replacement tires or a $100 per tire refund if customers use another brand, and according to both L.K. and the Tire Store, people are taking advantage of the offer, often opting to pay extra for a top of the line tire. Recently, the company said they will have replaced 1 million tires by the beginning of this week.

Although the recall was not announced until the beginning of this month, some AP reports allude to the fact that the tires were causing problems in South America as early as two years ago, a charge which the company denies.

Nationwide, there have been nearly 300 reports of tire failures involving the Firestones, and the company claims that only tires manufactured in the Decatur, IL plant are affected.

Ford Motor Company and Firestone recommends that concerned motorists check the pressure in their tires and keep it between 26 PSI and 30 PSI.

Mr. Rounds said that if a driver is faced with the "rapid depressurization" of a tire they should try and keep the vehicle traveling in a straight line, slow down as quickly as possible without skidding, and steer into the direction of the skid if they do skid. Do not stomp on the brakes, which may cause the vehicle to go out of control.

To date there have been 101 fatalities (66 were Wyoming residents) on Wyoming highways this year, compared to 128 (86 from Wyoming) at the same time last year. The Wyoming Department of Transportation feels some of this decrease in fatalities is due to the new seat belt law, which went into effect this summer.

Photo credits: Rob Shaul, Jennifer Binning

See The Archives for past articles.
---
Copyright © 1999, 2000 The Sublette County Journal
All rights reserved. Reproduction by any means must have permission of the Publisher.
The Sublette County Journal, PO Box 3010, Pinedale, WY 82941 Phone 307-367-3713
Publisher/Editor: Rob Shaul editor@scjonline.com