From the pages of
The Sublette County Journal
Volume 5, Number 12 - 11/16/00
brought to you online by Pinedale Online
---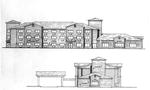 An artist's rendering of the new Super 8 motel planned for Pinedale. The motel will have 43 units, a pool, spa and elevator.

Progress continues on new Super 8 in Pinedale
43-unit motel will be located next to Best Western
by Rob Shaul

Monday night, the Pinedale Town Council granted a height variance to Granite Holdings, LLC., the group of investors who are working to build a new Super 8 motel at the west end of town. This clears the way for construction to begin on the facility.

The motel will be located on the empty lot west of the Best Western, according to plans presented at the meeting by engineer Mark Eatinger. How the building will be set on the lot has yet to be determined.

According to Dave Bell of Pinedale, one of the motel's investors, the new Super 8 will have 43 units, a pool, spa and elevator. Earlier this year Mr. Bell said he and the other investors hoped construction could start on the motel this winter, but in an interview Tuesday, he was more cautious. "At this point, we don't have a construction schedule," he said.

Mr. Bell would not divulge any of the other investors in the motel. The limited liability company they are working under, Granite Holdings, LLC, has not yet been registered with the Secretary of State.

See The Archives for past articles.
---
Copyright © 1999, 2000 The Sublette County Journal
All rights reserved. Reproduction by any means must have permission of the Publisher.
The Sublette County Journal, PO Box 3010, Pinedale, WY 82941 Phone 307-367-3713
Publisher/Editor: Rob Shaul editor@scjonline.com