From the pages of
The Sublette County Journal
Volume 5, Number 18 - 12/28/00
brought to you online by Pinedale Online
---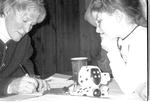 Glenn Close signs an autograph for Emily Wade at the Marbleton premiere of Disney's "102 Dalmations."

"102 Dalmations" Star Surprises Marbleton Movie Goers
Ms. Close owns property near Big Piney
by Helena Linn

The movie "102 Dalmations" was nearly over at The Flick in Big Piney last Saturday afternoon when theater owner Penny Tefertiller announced that everyone should exit through the door to the left when the movie ended . . .because. . .Glenn Close - star of the movie - was waiting in the lobby to greet everyone and sign autographs! Although the grown-ups around town had heard some rumors that she might be there, a theater full of kids were so excited they could scarcely wait for the end of the movie.

Kids of all ages had been mesmerized by Ms. Close's character, Cruella De Vil, a dognapper in the 1996 film "101 Dalmatians," who had supposedly been cured of her mad longing for a coat made of Dalmatian fur. In "102 Dalmatians," Cruella returned to her evil ways. Back to rounding up Dalmatians, the movie's villian is out-smarted by canines and a macaw that thinks he is a dog. Cruella De Vil is a frightening character with evil intent so kids love it when the puppies start doing her in.

Like the rest of her family, Glenn Close loves dogs and it defies the imagination to think of her as a villainess who would plot to make a fur coat from the pelts of tiny spotted Dalmatians. The smiling, gracious lady in the lobby, who was careful to spell each child's name properly and who kindly posed for pictures with wide-eyed youngsters, was a far cry from the shocking character on the screen.

Cruella with her half white-half black spiked hair, outrageous outfits, and a fiendish laugh, reveals the ability Glenn Close has as an actress. As one lady expressed it: when some people act, you know it is still the same person, but Glenn Close can make you believe she is the character she portrays.

Everyone at the theater on Saturday appreciated that Glenn would take time from her vacation with her daughter Annie, her parents Dr. and Bettine Close, and her brother and sisters to say hello and sign autographs for her fans in Big Piney. <

Photo credits: Helena Linn

See The Archives for past articles.
---
Copyright © 1999, 2000 The Sublette County Journal
All rights reserved. Reproduction by any means must have permission of the Publisher.
The Sublette County Journal, PO Box 3010, Pinedale, WY 82941 Phone 307-367-3713
Publisher/Editor: Rob Shaul editor@scjonline.com