From the pages of
The Sublette County Journal
Volume 5, Number 19 - 1/4/01
brought to you online by Pinedale Online
---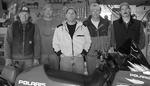 Troy May and his rescuers from left: Kurt Meeks, Mark Milleg, Troy, Scott Mansor and Bill Tanner.

Friends Rescue Marbleton Man Caught in Avalanche
Troy May had lost consciousness when they recovered him
by Rob Shaul

"It felt like being dumped in a vat of cement - I couldn't move," says Marbleton's Troy May, who was buried two feet deep in an avalanche while snowmobiling last Friday.

It was about 3:30 p.m. and Troy and friends Scott Mansor, Bill Tanner and Kurt Meeks were snowmobiling across a bowl just above Middle Piney Lake in the Wyoming Range when the avalanche broke loose above them.

Scott Mansor and Bill Tanner were ahead of Troy and Kurt, and Scott remembers seeing the avalanche break loose to his left. He and Bill sped up and got out of the avalanche's way. The two men rode their sleds to the top of a ridge and waited for things to stop moving. Once the snow stopped, they turned their sleds and headed right back the way they had come to check on the other two in their party.

The top of the bowl was approximately 1/2 mile across at its mouth. It fed two narrow chutes with a small hump between them.

Both Troy and Kurt had been caught in the avalanche, and when Scott and Bill returned, they saw that Kurt's snowmobile had been partially buried, but Mr. Meeks was standing free of the snow. Troy's machine was also half buried, but he was missing. "When you look down there and you had two friends behind you and then now there's only one standing and you have no idea where to begin looking for the second one, it shakes you up," says Mr. Mansor.

Mr. May says that when the avalanche broke loose his initial reaction was to turn his snowmobile into the wave of snow and try to ride over the top of it. However, as he was making his turn, the snow caught his skis and swept the sled away from him. He started "swimming" in the snow, down current, with the snow pushing him along. He was attempting to stay on top of the slide.

He almost did it. Troy estimates he swam about 100 feet on top of the avalanche, and at one point, the slide slowed down and he thought he'd made it. But suddenly a second wave of snow came and buried him.

Troy was buried face down, his head approximately two feet below the surface. His right leg was bent at the knee, behind him and his left leg was extended straight out. Troy's left arm was straight out in front of him, and his right arm was bent at the elbow, his hand approximately six inches from his face.

It was dark gray underneath the snow, and the only thing Mr. May could move was his right hand. The snow packed him in so tightly it even flowed inside his helmet and visor, around his face.

Mr. May panicked the first few moments he was buried. He struggled vainly against the snow. But his senses returned, and he quickly calmed himself down to conserve oxygen. After a short time, he fell asleep, asphyxiated. Thank God he was wearing his avalanche beacon.

Above him, Troy's friends were quickly organizing to rescue him. Mr. Mansor estimates that within 3-4 minutes, he and Mr. Tanner had driven their snowmobiles back to the slide area to begin the search for Mr. May.

Bill turned his own avalanche beacon from "send" to "receive" and began searching for the signal from Troy's beacon. Scott assembled his avalanche probe, and Kurt Meeks got his snow shovel.

Using the beacon, Bill quickly located Mr. May's signal, and within just a few minutes, Kurt's shovel hit the top of Troy's helmet, approximately two feet from the surface. The three friends quickly dug the snow away from Mr. May's head and face with their hands.

Scott says that when they finally raised Troy's visor, they found him unconscious. His face was blue-gray in color. "It was clear he hadn't been breathing for a while," said Scott. At this point, Mr. Meeks called in a life flight using his cell phone.

However, once his friends had removed the snow from Troy's shoulders and back, he started breathing again on his own.

The friends were afraid Troy might have suffered broken bones or other injuries, and were hesitant to move him at first. But after Mr. May regained consciousness, and they had finished digging him out, they asked if he was injured anywhere. He said he wasn't and convinced them by standing up and walking around.

Within ten minutes of being unburied, Troy was sitting on his half-buried sled, drinking Gatorade and regaining his senses. His friends called to cancel the life flight, and just a short while later, Mr. May was helping Bill Tanner dig his snowmobile out. "Them boys there, they saved me," Troy says about his friends. "Them and that Pieps [avalanche beacon] pretty much saved my life."

His friends found Mr. May approximately 50 yards from the end of the slide, says Mr. Mansor. He was found only about four feet from his snowmobile.

The next day, Mr. Mansor and some friends returned to the avalanche. He describes the slide as not a major one, but it was substantial and included 6-foot in diameter chunks of snow, and several smaller 2 to 3-foot-diameter chunks. He believes the slide was started by the sound of their snowmobiles.

Concerning the rescue efforts, Mr. Mansor said the avalanche beacon and the whole evolution, "worked exactly the way it was supposed to." Scott doubts they would have found Troy in time to save him without the avalanche beacons. The experience has definitely made him a believer. "If you can afford a $7,000 sled, you can afford a $225 Pieps [brand of beacon]" says Mr. Mansor.

Troy knows he came close to dying last Friday. "I was probably just a few minutes away," he concludes, soberly. <

See The Archives for past articles.
---
Copyright © 1999, 2000 The Sublette County Journal
All rights reserved. Reproduction by any means must have permission of the Publisher.
The Sublette County Journal, PO Box 3010, Pinedale, WY 82941 Phone 307-367-3713
Publisher/Editor: Rob Shaul editor@scjonline.com