From the pages of
The Sublette County Journal
Volume 5, Number 20 - 1/11/01
brought to you online by Pinedale Online
---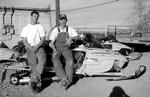 Ryan McGuire and Ryan Persinger after water skipping across Fremont Lake in November, 1999

Ripley's Interested in Water Skipping Sleds
TV Program may feature local riders
by Rob Shaul

This Monday, the Journal received an email from Paul Silva, a researcher for the TBS program Ripley's Believe It or Not! Mr. Silva said his producers were interested in shooting an episode featuring "water skipping" snowmobiles across open water, and he had come across a story on the Internet from a 1999 issue of the newspaper.

In the 11/19/99 issue, we wrote a story about two local snowmobile riders, Ryan Persinger and Ryan McGuire. The two Ryans had "water skipped" their snowmobiles from Sandy Beach to the lower boat dock on Fremont Lake.

In a telephone call Tuesday, Mr. Silva said the only other evidence of water skipping he's been able to find involved someone in Sweden. He said he'd called the different snowmobile manufactures but they refused to participate.

Mr. Silva said the "draw" for his program is the "danger" and "crazy" element of riding a snowmobile across open water. "I think it's just crazy!" he said.

On Tuesday afternoon and again Monday morning, Mr. Silva contacted Mr. Persinger at Performance Tech. According to Ryan, Mr. Silva talked about staging a jump into Lake Tahoe in February, and seeing how far Mr. Persinger could water skip his sled after the jump. Ryan said Mr. Silva had also requested a copy of the videotape that was shot of him and Mr. McGuire water skipping in 1999.

Mr. Persinger said he did some more water skipping last summer on the Green River. He jumped his sled off the bank into the water and proceeded downstream passing drift boats on the way.

The Ripley's Believe It or Not! Television program began its second season this Wednesday. The program airs at 8:05 p.m., Wednesday nights on TBS. <

See The Archives for past articles.
---
Copyright © 1999, 2000 The Sublette County Journal
All rights reserved. Reproduction by any means must have permission of the Publisher.
The Sublette County Journal, PO Box 3010, Pinedale, WY 82941 Phone 307-367-3713
Publisher/Editor: Rob Shaul editor@scjonline.com