From the pages of
The Sublette County Journal
Volume 5, Number 21 - 1/18/01
brought to you online by Pinedale Online
---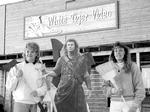 Lana Koppenhafer (left) and Bev Stevie join Mel Gibson in a Braveheart pose.

Behind the Scenes at White Tiger Photo
Blood & Guts, Chick Flicks and Videos at 10 p.m.
by Rob Shaul

Lana Koppenhafer has about a dozen "regular" customers who visit White Tiger Video next to Faler's every day to rent a video. One couple has rented 1,138 videos from White Tiger over the past couple years! It's no surprise that a video rental store is a popular business in theater-less Pinedale. In 2000, Ms. Koppenhafer and business partner Bev Stevie added 368 new customers to their computer database. Since they've been in business, Lana and Bev have had over 900 new customers walk through the door to rent videos. That's over 70% of Pinedale's entire population! It's also no surprise that the new releases are the most popular videos.

In 2000 the Bruce Willis thriller "The Sixth Sense" was the most rented video at White Tiger. "Erin Brockovich" with Julia Roberts was second. Lana says videos of recent movies are available 3-6 months after the pictures are released in theaters. She explains that when a movie is doing well at the box office, the release of the video is delayed.

New releases cost White tiger $60-$80. The most popular new releases can be reserved for a month after they come out on video. A recent example is the movie "Gladiator" staring Russell Crowe. This movie was released on November 20, and was reserved every night for a month and a half.

Tuesdays are two-for-one nights at White Tiger and the special deal results in a busy night at the video shop, especially since new releases can only be put on the shelf on Tuesdays, according to the contract Lana has with her videotape supplier.

Action/adventure - or "blood & guts" movies dominate men's videotape rentals, says Ms. Koppenhafer. White Tiger has organized its action/adventure movies by actor and in one section of the store, Arnold's movies are neighbors with movies starring Mel Gibson, Bruce Willis, Jackie Chan, Steven Segal, Wesley Snipes and many other action heroes. Lana has one male customer who is an exception, however. She says this gentleman comes in the store every week and rents all types of movies.

"Ladies, especially if the men are gone for the night, want the chick flicks," says Lana. "Get out the box of Kleenex and curl up by the fire," she says, laughing. Currently, Ms. Koppenhafer's favorite chick flick is "Return to Me", starring David Duchovny, of "The X-Files" fame, and Minnie Driver. Lana says her son liked that one too.

Pinedale teenagers' current favorite is "Scary Movie", a parody on horror movies. Lana can't understand why. She hated the movie, and describes it as "just stupid". Scooby Doo movies are popular with younger kids these days, says Ms. Koppenhafer. Other movies that appeal to them include the two "Toy Story" movies, "The Lion King", and all of the seven "Land Before Time " movies that feature animated dinosaurs.

Horror and science fiction movies don't rent very well at White Tiger. However, westerns are a perennial favorite. Until recently, Lana purchased her videos from a company out of California. There was one western they offered, but didn't recommend, called "8 Seconds". The movie stars Luke Perry playing a champion bull rider who was killed by a bull. Lana disregarded the company's advice and purchased the movie, which proved to be a wise choice because the movie rented well.

Christmas vacation is White Tiger's busiest time of the year and several families have incorporated watching a special video during the holidays into their Christmas traditions. The two most popular are "Miracle on 34th Street" and Chevy Chase's not-so-wholesome "Christmas Vacation". Lana says business during the rest of the year remains steady - even during the summer when she'd expect people to spend more time outside. She did notice a slight drop off last spring, and believes it was because the weather was so nice.

For some of White Tiger's customers, the late fees really add up. Late fees totaling $1.50 are not uncommon, says Lana. One lady left town with two of White Tiger's videos and has never returned them. Her late fee bill stands at $1,800, plus the two videos! Most people end up paying their late fees, although some choose never to return and rent another movie.

White Tiger has had some movies stolen, but for the most part, theft isn't a big problem. Some people simply forget they have the videos, or misplace them, says Ms. Koppenhafer. She's even had people who have moved, found the movie hidden in their stuff at their new residence, and mailed them back - with a check for the late fees! On occasion, Lana calls the sheriff on people who don't return their videos. After the sheriff contacts them, they usually return the movies right away. So far, Lana's never had to take anyone to court over stolen videos.

DVDs are getting more popular and White Tiger has started stocking them. Many families received DVD players for Christmas and that increased demand for DVDs. Lana says that at least one Pinedale man bought a DVD player just so he could have a chance to watch new releases sooner. Lana believes that within five years, DVDs will dominate the space on her shelves.

Satellite television and cable TV hasn't seemed to hurt Lana's business. She notes that pay-per-view movies on cable or satellite TV often come available after the video has been released. Also, explains Lana, people must re-arrange their schedules so they can watch the pay-per-view movie; they can't just pop it in whenever they're ready as they can with one of her videos.

Lana is a "little nervous" about the promised theater in Pinedale. However, she thinks taking the family out to the movie very often will be cost prohibitive for many people in Pinedale. She hopes the inexpense of her video rentals will keep them appealing.

Several of White Tiger's customers are ranchers and others who don't get to town very often. To accommodate these people, Lana and Bev came up with a "5 movies for $5" deal on most movies except the new releases. Lana's surprised at how many people take advantage of this offer and their Tuesday night 2 for 1 bargain. She and Bev are also surprised at how many people stop in just before closing at 10 p.m. to rent a video. "I'm ready to go to bed at that time!" exclaims Bev. <

Photo credits: Rob Shaul

See The Archives for past articles.
---
Copyright © 1999, 2000 The Sublette County Journal
All rights reserved. Reproduction by any means must have permission of the Publisher.
The Sublette County Journal, PO Box 3010, Pinedale, WY 82941 Phone 307-367-3713
Publisher/Editor: Rob Shaul editor@scjonline.com