From the pages of
The Sublette County Journal
Volume 5, Number 22 - 1/25/01
brought to you online by Pinedale Online
---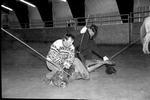 Big Piney's Robby Moore and Cora's Eric Schouboe "brand" a roping steer with paint during last Saturday's Team Branding event in Bondurant.

Team Branding Event Offers An Afternoon of Fun and Competition

by Rob Shaul

Thirty teams competed in last Saturday's Team Branding held at the Spirit Winds Arena in Bondurant.

The event was sponsored by Symonds Tack and organized by TJ and Toni Symonds. It drew upwards of twenty participants.

Teams of four competed in the timed event. First, two of the team members would ride their horses and rope a steer. One rider would rope the head, and the other would be the heeler.

After the steer was stretched out, the two other team members would wrestle the steer to the ground and brand it with paint.

Next, the two riders would swap roping responsibilities. The heeler would now have to rope the head, and vice versa. After the second steer was branded, the riders and branders would switch off and the whole evolution would begin again.

There were two classes of teams, novie and open. In the novice competition, the teams were timed on how long it took to brand four steers. In the open class, the teams had 8 minutes to brand as many steers as possible.

Symonds Tack donated a snaffle bit headstall to each novice class 1st Place winner, and a rope bag to each open class 1st Place winner.

Overall, the event was filled with a lot of good fun and stiff competition. Individuals who arrived late were quickly drafted to be team members. People were even lent horses if they didn't bring their own.

"We'd like to send special thanks to all that attended and all that volunteered," said Toni Symonds. "And a very special thanks to Robby and Lori Moore for the use of the cattle, arena and expertise."

Toni and TJ plan to sponsor another team branding event at Bondurant in February. Toni encourages people to come and compete. She wants everyone to know that you don't have to come with a team already put together. You can come as an individual and join a team at the event. <

Photo credits: Rob Shaul

See The Archives for past articles.
---
Copyright © 1999, 2000 The Sublette County Journal
All rights reserved. Reproduction by any means must have permission of the Publisher.
The Sublette County Journal, PO Box 3010, Pinedale, WY 82941 Phone 307-367-3713
Publisher/Editor: Rob Shaul editor@scjonline.com