From the pages of
The Sublette County Journal
Volume 5, Number 23 - 2/1/01
brought to you online by Pinedale Online
---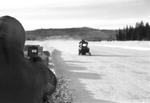 Jim McClellan shoots Pinedale's Brad Winters going 104 miles per hour on his Genesis-powered Polaris during the "Dash for Cash" race at last Saturday's Half Moon Shootout. Brad won this portion of the ice drags, but Troy Bredthauer had the fastest officia

33 Race for Top Speed on Ice at Half Moon Lake Shootout

by Rob Shaul

Pinedale's Troy Bredthauer had the fastest official and unoffical speeds at last Saturday's "Halfmoon Shootout" held on the ice at Half Moon Lake.

According to Half Moon Lake Resort Assistant Manager David Friend, Troy raced his sled to 122 mph on a practice run, but blew a crank in the process. Troy was able to repair his machine and ended up with the fastest official speed of the day - 106 mph.

The ice drag race was sponsored by Half Moon Lake Resort and organized by the Pinedale Snow Explorers. A quarter mile "track" was plowed on the ice of Half Moon Lake and the goal was to race to the highest speed as measured by a radar gun.

"They used to have ice drags on Half Moon Lake," said Mr. Friend. But the last race anyone can remember was held about 15 years ago. David said plans are to make the Shootout an annual event. "We really enjoyed it," he said, "and we got really positive feedback."

There were a total of thirty-three entries for last Saturday's race, and Mr. Friend hopes next year's turnout will be three to four times that size. A total of $688 in prize money was won, and trophies were handed out for 1st, 2nd, and 3rd place in the junior classes, and 1st place in the adult classes. The trophies were donated by the resort and Bucky's Outdoors.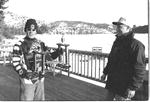 Bobby Millican (left) won two events at the Shootout. Helping him admire the trophies is Aaron Gesch, manager at Half Moon Lake Resort.

A donation to Pinedale EMS, which had an ambulance and EMTs standing by, was made from the race entry fees.

The weekend of February 17-18, Half Moon Lake Resort will sponsor its annual ice fishing derby. This year, the resort will also sponsor a lake-ice hockey tournament for kids in 1st and 2nd grade during the same weekend. David says the "rink" will be plowed right below the lodge's deck, and he expects teams from Rock Springs, Green River, Big Piney, Pinedale and possibly Evanston and Idaho Falls to participate.

Mr. Friend says that when the resort initially presented the idea for a lake-ice hockey tournament there wasn't a lot of interest, but that was before the movie "Mystery, Alaska" came out. The story line for this movie centers around a hockey game held on lake ice between a town team and the New York Rangers. Call the resort at 367-6373 for details. <

See The Archives for past articles.
---
Copyright © 1999, 2000 The Sublette County Journal
All rights reserved. Reproduction by any means must have permission of the Publisher.
The Sublette County Journal, PO Box 3010, Pinedale, WY 82941 Phone 307-367-3713
Publisher/Editor: Rob Shaul editor@scjonline.com