From the pages of
The Sublette County Journal
Volume 5, Number 24 - 2/8/01
brought to you online by Pinedale Online
---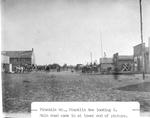 Pinedale as it looked circa 1910. Back then, Franklin Avenue was the main thoroughfare through town. This is a photo of Franklin Avenue looking south.

Pinedale Will be 89 Next Monday
Town was incorporated on February 12, 1912
by Rob Shaul

The town of Pinedale will be 89 years old on Monday, February 12. On that day in 1912, thirty-nine residents cast ballots on the question of incorporation and thirty-seven of them voted to create a new town.

On December 5, 1911, the Fremont County Commissioners (Sublette County wasn't organized until 1923) held a hearing on a petition signed by thirty-three residents in the Pinedale area asking for incorporation. The Commissioners set the ballot for the incorporation question for February 12, 1912, and following the election, the Town of Pinedale was born.

Pinedale's first mayor, Zeph Jones, was appointed on May 12, 1912. T.L. Clementsen was the town's first marshall. <

Photo credits: Paul Allen Collection

See The Archives for past articles.
---
Copyright © 1999, 2000 The Sublette County Journal
All rights reserved. Reproduction by any means must have permission of the Publisher.
The Sublette County Journal, PO Box 3010, Pinedale, WY 82941 Phone 307-367-3713
Publisher/Editor: Rob Shaul editor@scjonline.com