From the pages of
The Sublette County Journal
Volume 5, Number 24 - 2/8/01
brought to you online by Pinedale Online
---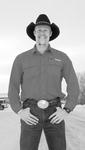 Future Wyoming game warden Ty Huffman.

Pinedale Native Follows His Dream
Ty Huffman is determined to become a game warden
by Rob Shaul

Ty Huffman is an impressive young man. Standing 6' 3", with curly blond hair and wearing a black cowboy hat he has an air about him that exudes confidence, sincerity, and determination. He'll need all these character traits, plus heavy doses of patience, commitment and fortitude to prevail and become a game warden in Wyoming.

Mr. Huffman, 25, has wanted to be a game warden, "As long as I can remember." He grew up in Pinedale and graduated from Pinedale High School in 1994. From high school Ty went to Casper College and studied wildlife biology for a couple of years.

After two years Ty left school and drifted around the country working at various jobs. He spent some time cowboying for rancher Miles McGinnis near LaBarge. Ty liked ranching, but he didn't see a future in it. Plus, he couldn't get becoming a game warden out of his head. In 1998, he decided to follow through and enrolled at the University of Wyoming. Last May Ty graduated with a bachelor's degree in Ranchland Ecology and Watershed Management.

After graduating, Ty appenticed with Farrier Mike Stevie learning the horseshoeing business for a month and a half. In the fall, he took a month off to go elk and moose hunting. However, all this time, Ty had been in close contact with Pinedale G&F Wildlife Supervisor Bernie Holz about possible job openings. In October, the department implemented the special season and 100 elk permits on private property to reduce the elk herd on the Piney Front. Ty was hired on as a temporary "wildlife technician" to help administer this program. By getting hired on as a contract worker, Mr. Huffman had started the long and arduous path to fulfill his dream and become a game warden.

The first job requirement for a Wyoming game warden is a bachelor's degree in wildlife management, biology or some other natural resource oriented area. Second, all game warden candidates must pass the game warden exam which is administered almost every year in January.

Ty first took the exam in January 2000, and failed. It was administered the day after his final exams at the University of Wyoming and Mr. Huffman didn't get a chance to study, but still wanted to become familiar with the exam and its difficulty.

The first part of the exam consists of an extensive written component. Game warden candidates who pass the written part of the test are then subjected to an oral exam and an intense psychological interview and a 1,200-question, personality profile questionnaire.

Ty returned to Cheyenne last month and re-took the exam. He studied in his spare time two months prior, and was so nervous he couldn't sleep the night before. The work paid off; he passed. In reward he got to sit through an intimidating oral exam, endure a penetrative visit with a psychologist, and complete the 1,200 question fill-in-the-dot personality profile.

And it doesn't end there. Ty will have to endure the same written exam, oral inquisition, psychology profile and personality questionnaire next year, and every year the test is administered to stay qualified to apply for a game warden position if one comes open.

"It's a very complex screening process but I think it has given us what very well may be the best game warden force in the nation," explains the G&F's Chief Game Warden Jay Lawson. Years ago, game warden positions were filled by political appointment, which led to corruption and problems, said Mr. Lawson. This changed when the legislature passed a law mandating that game wardens be subject to a competitive testing process.

Mr. Lawson says the psychological evaluation and personality profile components of the overall exam have been "very helpful" in helping the department identify the best-qualified game warden candidates. For example, most successful game wardens are slightly introverted, says Mr. Lawson. He explains that people who are dominantly extroverted end up not liking the job because game wardens must work alone a lot of the time. Candidates who are dominantly introverted have problems handling the public relations part of the job.

State regulations mandate that game warden candidates must take the exam every year, says Mr. Lawson. "We don't do it to torture them," he laughs.

Most of the warden candidates who pass the exam are hired on with the department as contract, or temporary help. Many spend their summers on "reservoir crew" working state-owned reservoirs in eastern Wyoming. Others, like Ty are hired on as "Wildlife Technicians" - temporary department employees working on ongoing or special projects.

By definition these jobs are not permanent, transfers are common and expected and the pay is minimal. Ty makes $8.42/hour, and says he made more cowboying - because he could work longer hours. Overtime working for the Game & Fish is limited, and so is Ty's earning potential.

However, working in these temporary jobs, and performing well is expected of future Wyoming Game Wardens. Mr. Lawson and the department monitor game warden candidates' performance in these temporary jobs closely. How they perform makes a huge component of their fitness to be wardens when and if a job ever comes open. There are some "extremely talented" people working in temporary and contract positions hoping to one day become Wyoming game wardens, says Mr. Lawson.

And that can be a long wait. Currently there are just 53 district game wardens in the entire state of Wyoming, in addition to seven investigators. Turnover is very low - so low that there hasn't been a position that's come open for 3-4 years. Both Game Wardens in Pinedale, Duke Early and Dennis Almquist, have been at their jobs since the mid-1970's.

Mr. Lawson once wrote an article describing the requirements, expectations, screening and process to become a Wyoming game warden. He titled it, "Survivors become Wyoming Game Wardens," and he still thinks that "survivor" is the most apt description for those few who persevere and land one of the jobs.

Finally, even after a game warden candidate has taken multiple game warden exams, endured yearly psychological profiles, spent years in low paying, temporary contract jobs, waited for one of the existing game wardens to retire and out competes the rest of the candidates to become a full-fledged game warden, he spends a year on probation. "Seriously!" says Mr. Lawson. "It's brutal."

Undaunted

Mr. Huffman knows the obstacles and the challenges that lie between him and his dream. He's not na•ve. "It's so competitive," says Ty about the process. "It's really competitive."

But becoming a game warden is something Ty has wanted to do his whole life and he attributes part of his wish to Dennis Almquist and Duke Early. "I've always been around Dennis and Duke and always had a lot of respect for them," says Mr. Huffman. "And I thought their job would be just awesome!"

Ty says he's been very impressed with all of the Game & Fish personnel he's worked with and Mr. Almquist as a mentor and role model. "I guess I look up to Dennis quite a bit," he says quietly, not comfortable enough to elaborate.

"Ty's a wonderful young man and he has the desire to do it," says Dennis. He knows Ty will get "banged up and shoved around quite a bit," before a game warden position becomes available. "I'm certainly rooting for Ty," he concludes, "Hopefully he'll be successful in his quest."

For Mr. Huffman, the appeal of being a game warden starts with working outside, in the "wilderness," and interacting with both animals and people. It's certainly not the money. He doesn't even know what a game warden makes. "There's an old saying," about game wardens he says, "you get half of your reward in paycheck and half in scenery."

Ty's temporary job working the special elk season on the Piney front ended January 31st. He'll spend the rest of the winter classifying elk on the feedgrounds in the county. "It's so competitive," he continues, "If you're working contract or temporary, and you're not the best, they're going to let you go, and they do. Because there's so many people wanting to do your job."

In April he'll head to the Wyoming State Law Enforcement Academy for two weeks of law enforcement training. Ty doesn't know where he'll work this summer, and he expects to have to endure another game warden exam next January.

Ty's determination to become a game warden make planning his personal life difficult. He has a "wonderful" girlfriend, Kiley Garcilaso, who he met his last year at Laramie. Kiley is a teacher at Pinedale Middle School. "We came here so I could get a more serious career and she could get odd jobs," says Ty. "But she's on the career path and I'm temporary," he laughs.

What isn't funny is that Ty's dream to become a game warden means he'll likely have to leave Pinedale soon, if not this summer. He clearly likes this girl, and might even consider marriage if it weren't for this unpredictability. "It's tough," he says.

Despite the competiveness, the waiting, the unpredictability, Ty remains undaunted in his quest to become a game warden. "People told me it was something I could never get into," he says. "No, I want to be a warden. It will take some time to get there, but I'm going to work for it."

Mr. Huffman's ultimate dream is to someday become one of the game wardens stationed in Pinedale. He knows the community, and feels this local knowledge would help immensely in the job. "I love this area," he continues. "I mean, when I was growing up everyone else wanted to leave and I never wanted to leave."

Short of becoming one of Pinedale's wardens, Ty will settle for a warden position in Wyoming. "In Wyoming, wardens are real versatile," he explains. Wyoming game wardens do wildlife management, law enforcement and public relations as part of their main responsibilities. In a lot of other states, wardens are called "conservation officers," says Ty, disgustedly.

Finally, for Ty, the appeal of becoming a game warden goes beyond the fun, excitement and variety that comes with the job. "I feel like I could make a difference with my life," he says earnestly. More and more people are moving into the country, and this results in more and more competition for and pressure on the wildlife and resources. By becoming a game warden Ty sees an opportunity to help manage these pressures and help protect our wildlife and natural resources. "I could look back over my career someday and say, 'Yeah, I made a difference.'" <

Photo credits: Rob Shaul

See The Archives for past articles.
---
Copyright © 1999, 2000 The Sublette County Journal
All rights reserved. Reproduction by any means must have permission of the Publisher.
The Sublette County Journal, PO Box 3010, Pinedale, WY 82941 Phone 307-367-3713
Publisher/Editor: Rob Shaul editor@scjonline.com