From the pages of
The Sublette County Journal
Volume 5, Number 25 - 2/15/01
brought to you online by Pinedale Online
---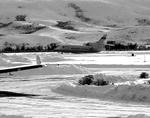 Mr. Haub's disabled jet at the Pinedale Airport.

Jet Skids Off Pinedale Airport Runway

by Rob Shaul

A private jet owned by Erivan Haub skidded off the Pinedale Airport Runway last week. The accident occurred at 8:50 p.m. last Wednesday according to Mike O'Conner, the FAA Regional Duty Officer in Renton, Washington.

The jet, a DA-900, landed and was braking normally when one of the left wheels locked up and the aircraft began pulling to the left. "Corrective action was taken, but unsuccessfully," said Mr. O'Conner. The jet skidded off the runway and came to a stop. Three people were aboard the aircraft at the time of the accident but there were no injuries. The jet suffered "substantial damage" said Mr. O'Conner, and as of Tuesday was still off to the side of the runway.

Mr. Haub, a German national, made the Year 2000 Forbes Magazine list of the World's Richest people. Mr. Haub and his family own the Tengelmann chain of supermarkets in Germany, and 54% of the A&P Supermarkets in the U.S. Forbes estimated his net worth at $4 billion.

Mr. Haub has owned property in Sublette County since 1989. He raises buffalo at his ranch in Cora. Telephone messages left at his home in Cora were not returned. <

See The Archives for past articles.
---
Copyright © 1999, 2000 The Sublette County Journal
All rights reserved. Reproduction by any means must have permission of the Publisher.
The Sublette County Journal, PO Box 3010, Pinedale, WY 82941 Phone 307-367-3713
Publisher/Editor: Rob Shaul editor@scjonline.com