From the pages of
The Sublette County Journal
Volume 5, Number 5 - 9/28/00
brought to you online by Pinedale Online
---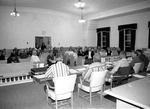 The scene in the courtroom Monday night.

Pinedale EMS Meeting Gets Off to Rocky Start
Committee formed to develop paid EMS contract proposals
by Rob Shaul

The courtroom was packed Monday night with concerned residents and EMTs from both ends of the county for the Rural Health Care District Board's hearing on the shorthanded Pinedale EMS. The tension-filled hearing started out rocky, but ended with progress being made as a committee was formed to develop paid EMS contract proposals for the Board to consider.

Background

Last winter, Gary Wilson, director of the Pinedale EMS, approached the Health Care Board with a proposal to go to a limited, paid EMS (Emergency Medical Service) in Pinedale. Mr. Wilson told the board that the 18-25 volunteer EMTs were becoming overwhelmed by the dramatic increase in calls in the north end of the county. Over the past ten years, the number of calls for Pinedale Ambulances have more than doubled, from approximately 150 per year to over 350 per year.

Mr. Wilson explained that not only were the current volunteers experiencing "burn out," but numerous blocks of time during the work day (5 a.m. - 5 p.m.) were not being covered with on-call personnel - implying that there may be a time when the Pinedale Ambulance Service may not be able to respond to a call. He and the Pinedale EMS advocated going to a limited paid EMS service with 2-3 full-time, paid EMTs backed up by volunteers.

During its budget hearings in the spring, the Health Care Board was hesitant to take this step for primarily fiscal reasons. Instead, it increased the compensation that the EMTs receive. Currently, EMTs receive between $10.00 and $20.00 per ambulance trip, plus 24¢/mile. Additionally, they receive $1.00/hr for being on call.

The paid service issue died down until early September, when the Pinedale EMS was unable to respond to two separate calls. In the first instance, the Pinedale EMS was able to provide a medic, but not an ambulance for an emergency transport to the Jackson hospital. The Big Piney EMS traveled up and transported the patient, and the Pinedale EMT to Jackson.

The second instance occurred on the first day of school in Pinedale. The Pinedale EMS was unable to respond to an emergency call for an ambulance at a ranch on the Green River Road. This time, the Pinedale EMS was unable to provide any response at all, and the Big Piney EMS provided the ambulance, EMT and transport to the Jackson Hospital. These two instances precipitated Monday's hearing.

Rocky Start

Anticipating hot tempers Monday, Health Care Board Chairman Dave Racich of Pinedale had two Sheriff's deputies on hand to escort unruly citizens out of the room, if needed.

Board member Jim Greenwood added to the tension by offering a motion once the hearing was called to order that there would be no paid, salaried EMS services this fiscal year. Mr. Greenwood's motion was quickly seconded by Garry Eiden Sr. of Marbleton, and passed by a 3-1 vote over the objection of Daniel board member Gregg Anderson. Walt Bousman of Pinedale abstained from the vote because he is currently a member of the Pinedale EMS.

The passage of Mr. Greenwood's motion stunned many in attendance who interpreted it to mean that the Board would not consider any form of paid EMS in Pinedale.

"The issue is before you now, and you can't close the books on it," Pinedale's Sally Mackey told the Board, "You can't close the hearing before it starts."

Pinedale EMT Rick Way called the Board's quick action a "blow to us." He told the Board Mr. Greenwood's motion immediately took away one option, and started off the meeting badly.

Mr. Greenwood and Mr. Racich explained that their intent was not to rule out a paid EMS service this year, but to make the point that they didn't want the paid EMS to be employees of the Board. Both men said they didn't want to fall into an administrative role with any more paid employees beyond the District's secretary. Both said they would support a contract for services for a paid EMS similar to the current contracts the Board has with the doctors at both medical clinics.

Mr. Greenwood suggested looking at the current EMS boundaries between Pinedale and Big Piney, and seeing if the Big Piney service could cover part of the area currently covered by Pinedale, therefore reducing the number of runs for the Pinedale EMS. He noted that to this point in 2000, Pinedale has taken 198 ambulance runs, and Big Piney, 115 runs.

Mr. Eiden suggested stationing an ambulance in Bondurant and growing an ambulance service for that community as a way to reduce Pinedale's runs. He said Bondurant residents have told him the Pinedale EMS has refused to train them.

Pinedale EMS director Gary Wilson responded to this accusation by saying that to the best of his knowledge, no one from Bondurant had been refused training by the Pinedale EMS.

Mr. Racich then attempted to direct the discussion to the problem of too few volunteers in Pinedale, however in doing so, he made a point that the EMTs were compensated, and technically, not volunteers.

Both Mr. Racich and Mr. Greenwood referred to figures they had listing individual Pinedale EMTs and the amount of money they've been paid for taking ambulance runs so far this year. The figures ranged from $4,543 for one busy EMT, to $235 for another who had taken just a few runs.

Mr. Racich noted that the increase in compensation had not increased the number of volunteers. He said he was led to believe increasing the compensation would help.

"I never said increasing compensation would bring in more people," responded Gary Wilson, adding that he was at a loss on how to get more volunteers. But even if the Pinedale EMS has 30 volunteers, he told the Board, they still wouldn't be able to cover all the slots on the call sheet.

"We'll still need volunteers," replied Mr. Racich, "it's still a problem."

"I can't see how bringing in three paid people will get us more volunteers," added Mr. Greenwood.

The figures and the implication that the EMTs were only concerned about money angered several of the Pinedale EMTs in attendance. Board member Gregg Anderson defended the EMTs and their compensation, noting that these weren't part time jobs, because the wages were paid for unscheduled, undetermined times.

EMT Jacque Strike told the Board their figures didn't account for the thousands of hours the EMTs volunteered to get their education and training.

Board member Garry Eiden was more direct. "All I've heard tonight is money," he said. Speaking to the EMTs in attendance he added, "Why don't you just say that money is the problem?"

This drew vocal rumblings from the EMTs causing Mr. Racich to say he'd send a Sheriff Deputy to escort any unruly public from the room if needed.

EMT Kris Hunt of Pinedale was the first to respond to Mr. Eiden's accusation. "This isn't the issue. Money isn't the issue. The issue is the 24-hour coverage. I can't just volunteer everyday to leave my job." Ms. Hunt said that in her position at Teletractors she had a critical responsibility when it came to the safety of company's employees. When she had to leave work for an ambulance run, she couldn't fulfill this responsibility. "I am weighing the balance of our employees' safety against someone who is in a critical situation," she explained.

Sally Mackey added that compensation wasn't out of line. "Their training and their skills are critical," she said.

"We need coverage at critical times," began EMT Jeff Hatch. Mr. Hatch was then interrupted by several of the EMT's radios going off with the tone sound for an ambulance, "and now I've got to go," concluded Mr. Hatch as he quickly left the room, to the applause of the audience.

After the on-call EMTs left the room, Aiden Mullett read a letter from Pinedale's Don Tegeler supporting a paid EMS service. Mr. Mullett said that when he was an EMT in Illinois, his community faced the same problem being faced today by Pinedale. After paid EMTs were hired, the number of volunteers increased at that service. "The change was absolutely incredible," he said.

However, Big Piney EMT Lisa Hueckstaedt said that if the Board went to paid EMTs, she would be less willing to volunteer her time.

"I'd volunteer, no matter what," responded Pinedale EMT Jacque Strike.

The Board was then asked if there was money in the budget to contract for a paid EMS service. Mr. Racich responded that there was. Board member Gregg Anderson said he felt strongly that ambulance rates should be raised to help pay for a paid service. "If we get a paid service," agreed Jim Greenwood, "I can guarantee you will raise rates."

Gary Wilson disagreed, and argued that there was money available to afford a paid service, without "instantly raising ambulance rates."

Vic McMurry and Paul Hagenstein spoke in favor of a paid service. "I'm amazed that we're arguing about this," said Mr. McMurry. "It seems to me there's revenue available to solve this problem."

"These people are laying their livelihoods on the line every time they take a call," said Mr. Hagenstein. "Put the dollars where they're needed."

Dr. Ron Glas of Pinedale told the Board they were in a crisis situation now, and a solution couldn't wait. "We can't defer this until next year," added Physicians Assistant Kris Roork, "Please consider making a solution before next summer."

Progress ... Slowly

"We've already got proposals. We know what needs to be done. It's just not getting done," said Board member Gregg Anderson.

Mr. Racich said that maybe it was time the Board hire a health care administrator, who would manage both clinics and the EMTs.

Mr. Greenwood suggested shifting some of the calls to the Big Piney EMS, and contracting with the doctors at the clinics to add paid EMT to their staffs. Dr. Burnett of the Marbleton Clinic said this might be a win/win solution for everyone.

Sublette Center Director Dave Doorn suggested that the Board appoint a committee of health care professionals to address the issue and come back to the board with options. The Board favorably accepted this idea. "I think it's a great idea," responded Jim Greenwood as Mr. Racich called for committee volunteers.

In the end, the Board asked Mr. Doorn to Chair the committee and identify the people to serve on it. These included the medical directors at both clinics and the EMS directors at both Pinedale and Big Piney. Mr. Doorn and the committee were instructed to return to the Board with options/suggestion for a paid EMS contracts at its October 9 meeting.

Photo credits: Rob Shaul

See The Archives for past articles.
---
Copyright © 1999, 2000 The Sublette County Journal
All rights reserved. Reproduction by any means must have permission of the Publisher.
The Sublette County Journal, PO Box 3010, Pinedale, WY 82941 Phone 307-367-3713
Publisher/Editor: Rob Shaul editor@scjonline.com