From the pages of
The Sublette County Journal
Volume 5, Number 6 - 10/5/00
brought to you online by Pinedale Online
---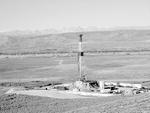 Just one of of the 20 drilling rigs currently operating in Sublette County. Nearly 85% of the County government's tax revenue comes from the oil and gas industry.

Jonah Field Could Hold $15 Billion in Natural Gas
$50 million in gas is produced from the field every month
by Rob Shaul

The Jonah Natural Gas Field in southern Sublette County could hold upwards of 3 trillion cubic feet of natural gas. This latest reserve estimate, says BLM geologist Phil Howland, translates into more than $15 billion at today's high natural gas prices. The field is expected to continue producing natural gas for 20-30 years.

There are nearly 200 producing wells at the Jonah Field, which to date have produced a quarter of a trillion cubic feet of gas. Eight to nine rigs are currently drilling wells at Jonah, says Mr. Howland, and approximately 60 wells are being drilled every year. Based on current field production figures compiled at the Wyoming Oil and Gas Commission website, the field will produce 115-120 billion cubic feet of natural gas and another 1.2 million barrels of oil this year. Based on today's prices, this field alone could gross $500 million in sales in year 2000.

While it's common knowledge that Jonah is the largest sweet gas field in Wyoming, what isn't commonly known, says Mr. Howland, is that it is the 13th or 14th largest oil field in the state. The oil comes from condensate that is produced as a byproduct of all the gas that flows out of the field. "Jonah is the most significant oilfield in the County," says Mr. Howland.

Anticline Volume Still Unknown

While the Jonah Field is one of the most significant natural gas finds in the past decade in the lower 48, says Mr. Howland, what the nearby Pinedale Anticline Natural Gas Field holds still-unknown reserves. There are currently 6 to 7 rigs drilling on the Anticline, which was approved by the BLM last summer. Questar is operating five of those rigs on its leases on the Mesa south of Pinedale. When asked earlier this month, the company declined to say how successful any of its wells have been thus far. Citing the company's confidentiality, Mr. Howland couldn't add much more. "The evaluation is still out on how big that area will be," he says.

The BLM and operators do know, however, that the Anticline field is not another Jonah. First, the wells are tougher and more expensive to drill. It takes approximately $1.5 million to drill and complete a Jonah well, says Mr. Howland. An Anticline well averages between $1.75 million and $2 million.

Second, the average Jonah well has 6 to 6.5 billion cubic feet of recoverable gas, while the average Anticline well has 2 to 4 billion cubic feet of recoverable gas-- about half the size of the Jonah wells.

While geologists for the most part believe that the Anticline is a much smaller field than Jonah is, there is one bright spot. The Antelope 15-4 well, drilled by Amoco at the southern end of the Anticline in late 1998, is the best producing sweet gas well ever drilled in Sublette County. The well is located adjacent to highway 191, and after only 13 months has produced 3.6 billion cubic feet of natural gas already. At today's prices, this well alone will produce in excess of $18 million in natural gas this year.

Questar intends to drill 10 wells this year before the November big game restrictions kick in and the company has to suspend its operations until next summer. The company has said that this year's wells are exploratory wells, and after analyzing the data and results from these 10 wells, the company will develop a more aggressive drilling program for next year and beyond. The EIS will allow up to 900 wells to be drilled in the Anticline project area. <

Photo credits: Rob Shaul

See The Archives for past articles.
---
Copyright © 1999, 2000 The Sublette County Journal
All rights reserved. Reproduction by any means must have permission of the Publisher.
The Sublette County Journal, PO Box 3010, Pinedale, WY 82941 Phone 307-367-3713
Publisher/Editor: Rob Shaul editor@scjonline.com