From the pages of
The Sublette County Journal
Volume 5, Number 6 - 10/5/00
brought to you online by Pinedale Online
---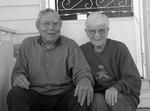 Young at heart. 102-year old Henry Mauss and his 90-year old bride, Clifton.

One Hundred and Two Years Young

by Rob Shaul

Henry Mauss turned 102 last Wednesday. At Faler's, where Henry himself is an institution within an institution, Mr. Mauss was treated to a birthday cake and a resounding "Happy Birthday" serenade by the Faler's staff. He was graceful, all smiles, and a wonderful gentleman.

Tuesday afternoon, I visited with Henry and Clifton at their modest home on South Tyler Street in Pinedale. Clifton answered the door, and invited me in. At 90, Clifton isn't any spring chicken herself, but she's full of energy, and her mind is as sharp as a tack. Throughout my conversation with her husband, Mrs. Mauss kept her husband and me on track. She was wonderful.

I found Henry sitting in his easy chair, in his socks, watching a baseball game. He was more than happy to talk to me.

Let's put Mr. Mauss' accomplishment into perspective. First, he was born on a farm in Missouri in 1898. Yes, 1898. That wasn't last century, it was the century before last!

William McKinley was President, Teddy Roosevelt was Secretary of the Navy. The U.S. battleship Maine blew up in Cuba's Havana Harbor, killing 260 sailors and sparking the Spanish-American War. Henry's middle name, Dewey, comes from Admiral Dewey's fame during the war.

American motorcar production reached 1,000 vehicles, up from 100 the year before and 25 in 1896, and the first photographs taken using a flashbulb were produced.

Growing up, Henry wasn't allowed to speak English at home - only German, until he went off to school at age 6 - in 1904. Clifton says his community was very isolated back then, with many German immigrants.

Henry remembers when a telephone was wired to the house around 1908. The farm was wired for phones by 1910, when his sister was born.

The first car ride Henry remembers was in a neighbor Bill Ellis' Model A. Later, his father came to own a 1916 Chevy , a two seater with curtains - the family's first vehicle. "The damn thing had a weak back end," Henry says, "and every time you went up a hill it would go out."

By 1918, Woodrow Wilson was President and Henry was set to ship off to Europe and fight in World War I when the war ended before he called up.

Henry wasn't able to vote until the 1920 election, when he voted for Warren G. Harding. "My dad was a good Republican," he explains in a deep, welcoming voice.

Henry endured the Great Depression on the farm. "One dry year, we ran out of water on the farm," he says. "And then there were the grasshoppers."

Henry worked a team and mowing machine for 50¢/day. Hands working on the farm were paid $15/month plus board. He remembers WPA crews building dirt roads for $1/day.

Mr. Mauss was 42 when World War II started. He finally left the farm in 1948.

Looking back, the key to Henry's longevity is, as Clifton puts it, "hard work and good clean livin'."

"I started milking a cow at six years old," Henry tells me earnestly. "I was on the farm pretty much the whole time."

"I didn't drink much liquor," he continues , a mischievous hint in his voice. "I did go on a couple of benders though..." Henry said once he made a little home brew, but the bottles blew up one night, "so that didn't last long."

"Oh, I did get him drunk once," teases Clifton. "I really got him drunk. He was sick for two weeks!" This was after World War II ended, and they were at a celebration party. The men kept sneaking outside to take a swig of moonshine from under the porch. After a while, Mrs. Mauss filled up a coke bottle with straight whiskey and gave it to a slightly tipsy Henry, who drank it all down thinking it was coke. "I never did think much of her after that," Henry teases back. The Mauss' shared knowing a glance and I could feel their love for one another.

The interview over, I help Henry outside and to a seat on his front step for a picture. He's slow, and a little stiff, but not frail. After the shot, he looks at me, smiles, and says "I wonder if I'll make it to a hundred and three?"

We hope so Henry. We hope so.

Photo credits: Rob Shaul

See The Archives for past articles.
---
Copyright © 1999, 2000 The Sublette County Journal
All rights reserved. Reproduction by any means must have permission of the Publisher.
The Sublette County Journal, PO Box 3010, Pinedale, WY 82941 Phone 307-367-3713
Publisher/Editor: Rob Shaul editor@scjonline.com