From the pages of
The Sublette County Journal
Volume 5, Number 7 - 10/12/00
brought to you online by Pinedale Online
---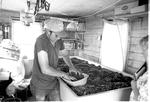 Herman Siems tends to his red wigglers.

Local Boy Worms His Way to Financial Security
Herman Siems is a red worm "rancher"
by Jenna Meyer

Did you know that one pound of red wiggler worms has a higher market value than one pound of lobster? It's true! A company called Vermi-Plex pays fifty dollars a pound for these slimy little critters. Red wigglers are used to recycle garbage in landfills.

Herman Siems, a 16 year old local boy, heard about these worms 4 months ago and decided to become a worm farmer - or rather, worm rancher. He's in Sublette County, after all.

Herman contacted David Monroe, the creator of Vermi-Plex, and with an initial investment of $1,500, he was able to get started. For his money, Herman was sent an 85-gallon incubator, where the worms habitate, and 5,000 baby red wiggler worms.

Within one week of receiving his start-up crop, each of Herman's 5,000 worms had laid an egg capsule containing 2-20 eggs. These eggs hatched within a week and within another week each of those worms will have laid another egg capsule, again containing 2-20 eggs, and so on. After four months, Herman has grown his herd to millions of worms.

This does take work. Herman must monitor the moisture, temperature and pH of his worm incubator. And then there's the feeding. Herman's worms eat a mixture coffee, peat moss, and manure. The worms will eat approximately 2 gallons of this nasty mixture every 2-3 days.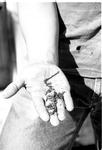 Hermanís Red Wigglers

They will also eat most organic matter including their shredded newspaper bedding.

Herman must keep the incubator moist. Red worms need a moisture level of 50-80% in order to continue breathing.

When red worms eat, they absorb micro-organisms that break down organic materials, and discharge rich black castings (a nice way of saying worm poop). The water filters through the castings and drains into a tray beneath the incubator bed. This liquid, sometimes called "worm tea," is used as an all-natural, disease-free pesticide and fertilizer that can be sprayed on organic food crops and household plants.

Herman's breeder crop will be built up enough in the next few months to begin his first worm crop harvest. He is expecting to harvest 4-6 pounds the first month and substantially more each month following. He plans to purchase a few more incubators once his new endeavor is on solid ground.

Vermi-Plex distributes red wigglers worldwide, and will purchase Herman's "yearlings." Why the demand for these little wigglers? The red wiggler worm, or Eisenia Fetida, are God's living compost machines. They devour our garbage and turn it into thick, dark, nutrient-rich compost. The compost is said to increase an organic crop's production level between 4 and 10 times that of a crop sprayed with regular market pesticides. This whole process is referred to as vermiculture.

Vermiculture is inspired by a nationwide federal initiative which insists that all landfills reduce waste by 50% or face fines. California has answered this initiative by purchasing 200 tons of red worms a day to consume biodegradable waste materials in its landfills. Australia has also begun vermiculture in its landfills. With this kind of international demand Herman Siems, worm rancher, can expect a bright financial future. <

Photo credits: Jenna Meyer, Jenna Meyer

See The Archives for past articles.
---
Copyright © 1999, 2000 The Sublette County Journal
All rights reserved. Reproduction by any means must have permission of the Publisher.
The Sublette County Journal, PO Box 3010, Pinedale, WY 82941 Phone 307-367-3713
Publisher/Editor: Rob Shaul editor@scjonline.com