From the pages of
The Sublette County Journal
Volume 5, Number 9 - 10/26/00
brought to you online by Pinedale Online
---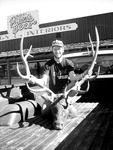 Derrick Willoughby of Daniel shot this 6-point bull elk up Horse Creek on opening day of elk season.

Big Elk, Happy Hunter!

by Rob Shaul

"I ran after him, and I finally shot him and he was big. I said whoa ... he was the biggest bull I'd ever seen!," said Derrick Willoughby last Wednesday afternoon. Derrick stopped by the Journal office with the head from the 6-point bull elk in the back of his truck. Even better than the big bull was Derrick's story.

Mr. Willoughby lives in Daniel and when asked what he does for a living, answers, "I work in the woods and go hunting during hunting season." On October 15, opening day, Derrick was hunting up Horse Creek with his family. Around 1:30 p.m., Mr. Willoughby and his hunting party saw a bunch of thirty elk enter a stand of timber. They pushed the timber and Derrick's bull ran out into the open accompanied by five cows and a 5-point bull. "My dad shot him first," explains Mr. Willoughby, excitedly. Wounded, the big bull began running down the slope and Derrick took chase.

Mike Ihly of Yakima, Washington, was hunting with Mr. Willoughby. "He can run," said Mike of Derrick. "This kid can flat run through the bush."

Just as Derrick was sprinting down the hill after the bull, a band of antelope came out of the timber and was heading across the slope into his path. "The antelope stopped for him," laughted Chuck Meeks of Daniel, who was hunting with Mr. Willoughby. "They knew Derrick was coming through after a big bull."

Mr. Willoughby caught up to the 6-point before the elk could make the timber, and dropped him with a shot from his 30.06 through the shoulder.

This is when the work began. It took Derrick and his hunting partners eight hours to carry the 900-pound bull out to the truck. The head and rack alone weighed 175 pounds.

They didn't get down to camp until 2 a.m. "If it wasn't for a good full moon we'd never have got him out that night," said Mike, who shot a 4-point bull himself earlier that day.

Nothin' like a good hunting story! <

See The Archives for past articles.
---
Copyright © 1999, 2000 The Sublette County Journal
All rights reserved. Reproduction by any means must have permission of the Publisher.
The Sublette County Journal, PO Box 3010, Pinedale, WY 82941 Phone 307-367-3713
Publisher/Editor: Rob Shaul editor@scjonline.com