From the pages of
The Sublette County Journal
Volume 5, Number 9 - 10/26/00
brought to you online by Pinedale Online
---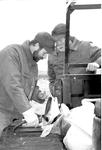 Wyoming Game and Fish Biologists Doug McWhirter and Ty Huffman age an antelope that was harvested over the weekend.

Elk Legs, Buffalo Heads & Bull Moose
Three hours at the G&F's Daniel Check Station
by Rob Shaul

Last Sunday afternoon, I spent three hours observing at the Game & Fish check station in Daniel. It was the first full weekend of elk hunting season in Sublette County.

Running the check station was G&F biologist Doug McWhirter. He was joined by Barb Long, Ty Huffman, Scott Edberg and Stan Harter.

Doug set up the Daniel checkstation just west of Stanley's Junction at a turnout on the Merna or Horse Creek Road. At this location, hunters coming out of the Horse Creek-Beaver area and coming down from Jackson or the Hoback had to stop and be checked.

I was at the check station from 2:30 p.m. until it closed at 5:30 p.m. During that time, 39 vehicles passed through, 21 of them from Sweetwater County.

Here are the highlights:

3:00 p.m. A guy from Sweetwater County pulled up with a 4X5 bull elk stuffed in the back of his Suburban. Doug knew this hunter to be one of the elite mule deer hunters in western Wyoming. While Scott Edberg and Stan Harter were checking the elk, the hunter pulled Doug aside to show the biologists pictures of the monster buck he'd killed up Hoback earlier this season.

3:18 p.m. Greg Dolph from Cheyenne pulled in with hunting partner to check his 40-inch bull moose. Mr. Dolph said he'd killed the moose earlier that day just over the hill from the check station on Mike Beard's ranch. The night before this bull had been licking on a salt block behind Mike's barn.

There's more to the story. In 1997, Mr. Dolph drew an archery license for moose north of Jackson. On the first day of the season, he was attacked by a sow grizzly bear. Greg said the bear pulled him out of a Jack Pine and tore into his foot and hand. When he hit the ground the hunter broke three ribs, but laid still. The sow returned three times, but didn't injure him further. Greg nearly lost his big toe in the attack.

Mr. Dolph petitioned the Game & Fish to get his points back, and after nine months they were reinstated. He drew again this year.

3:40 p.m. An old beat up, jacked up Chevy truck with Sweetwater County plates pulls up. Inside are two hunters in their twenties. The license on the truck spells, "RDNK". At first, I don't understand what it's trying to say, but after the truck leaves, Stan Harter asks if I saw the plate. He said it stood for "Redneck" and that the truck had a "redneck" sticker on the windshield.

3:50 p.m. Garth Simkins of Cheyenne pulls into the check station with a cut up cow bison in the back of his truck. Mr. Simkins shot the bison with a .338 earlier in the day just outside Teton National Park. The cow was with a bunch of other bison, and after it was shot, several bulls strangely crowded around it, aggressively, said Mr. Simkins. He wisely waited until they had lost interest before dressing his kill.

Mr. Simkins drew a bull bison permit in 1996, so the cow was his second buffalo. He planned to bleach its scull and have the hide tanned.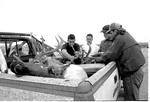 Meat hunter! This hunter from Sweetwater County had three elk in the back of his pickup - two bulls and a cow.

It was the first time the Game & Fish guys had ever checked a bison and they were all curious. Stan and Scott Edberg also displayed some meat envy. They teased Mr. Simkins that they needed to keep a hind quarter for inspection purposes.

4:02 p.m. Three trucks pulled up, two with Sweetwater County plates and one with Ohio plates. All the hunters were in the same hunting party, and they told the G&F personnel about some large bear prints they'd seen. They were convinced it was a grizzly print.

One guy even drew what the print looked like on a piece of scrap paper. Holding out his hand, he said the pad of the bear print extended beyond his spread out fingers. After they'd left, either Scott or Doug told me the G&F has had several grizzly reports in the Wyoming Range, but each one that's been investigated by Big Piney Game Warden Brad Hovinga has turned out to be a black bear.

4:25 p.m. We've noticed a four-wheeler drive by the check station in the barrow pit to the north on its way to Stanley's Junction. On its way back, Barb Long waves down the driver, who turns out to be Jean Rahm, who lives at the Junction near the old Highway Department Building. Barb and Jean have a good visit.

5:07 p.m. Scott Edberg takes off in his green G&F truck after some hunters from out of state he thinks may be suspicious. Mr. Edberg has chased after two or three other possible hunting vehicles who drove by the check station without stopping.

5:17 p.m. Daniel's Ben Franklin and his wife stop by pulling a horse trailer. They've been hunting and in the back of their pickup is a young spike elk. Doug and Ty are good friends with the couple and they visit for a while about hunting and good dogs. The Franklins hunted with some other people, but the party only took this one elk. "We sure had enough horses," says Ben, sarcastically.

5:30 p.m. The traffic slows down, and Doug decides to close down the check station. Over the weekend, 66 elk, 25 deer, 17 antelope and 11 moose taken by hunters were checked in by the Game & Fish at Daniel.

See The Archives for past articles.
---
Copyright © 1999, 2000 The Sublette County Journal
All rights reserved. Reproduction by any means must have permission of the Publisher.
The Sublette County Journal, PO Box 3010, Pinedale, WY 82941 Phone 307-367-3713
Publisher/Editor: Rob Shaul editor@scjonline.com